The Creality Sonic Pad has upgraded to V1.0.6.52.92(Download:https://www.creality.com/pages/download-creality-sonic-pad). Below are new functions, come on and explore the new functions.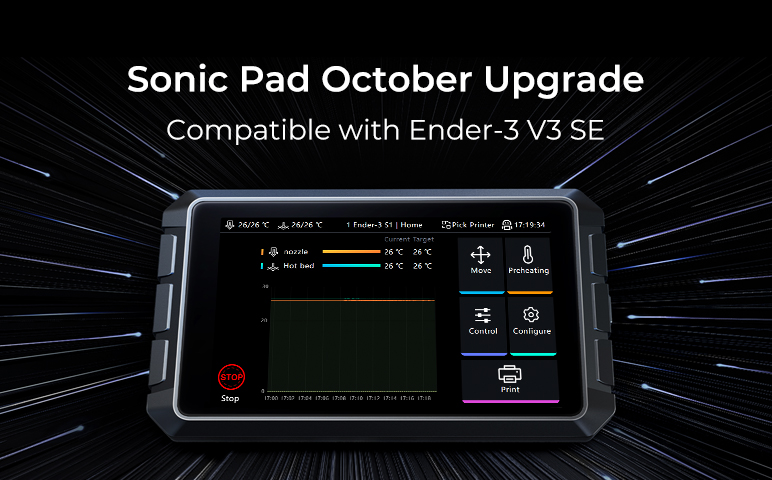 1. Add the new pre-configured printer model Ender-3 V3 SE
This new firmware is compatible with the new machine, Ender-3 V3 SE. After connecting to the sonic pad, it will speed up the printing to 2-5X to improve the working efficiency.
Kindly note: The Creality Sonic Pad Serial Cable is required to ensure a stable connection with Ender-3 V3 SE.
Creality Sonic Pad Serial Cable: https://store.creality.com/products/creality-sonic-pad-serial-cable?spm=..collection_cc8cf8b4-3da1-49c7-bc32-dd0e246caef8.albums_1.1&spm_prev=..index.products_display_nav_1.1
2. Add the user-customizable UI editing and replacement function
The new firmware will open access for users to custom UI editing and replacement to releash the personal preferences and creativity. Below are the step-by-step tutorials to change the UI for Creality Sonic Pad.
· Choose the specific picture you want to upload to Sonic Pad;
· Go to the link(https://klipper.cxswyjy.com/customui/)to redesign the UI. Click "Switch background" to redefine the background and double-click the specific icon to freely change the icon design.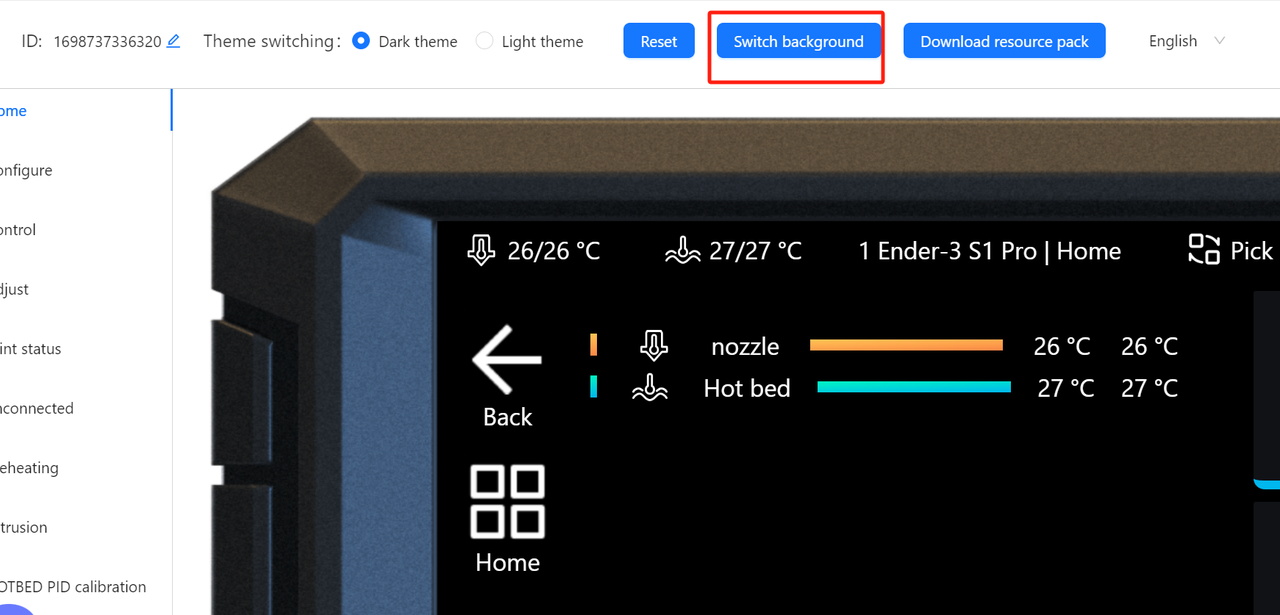 · Press "Download resource pack" to download the new UI;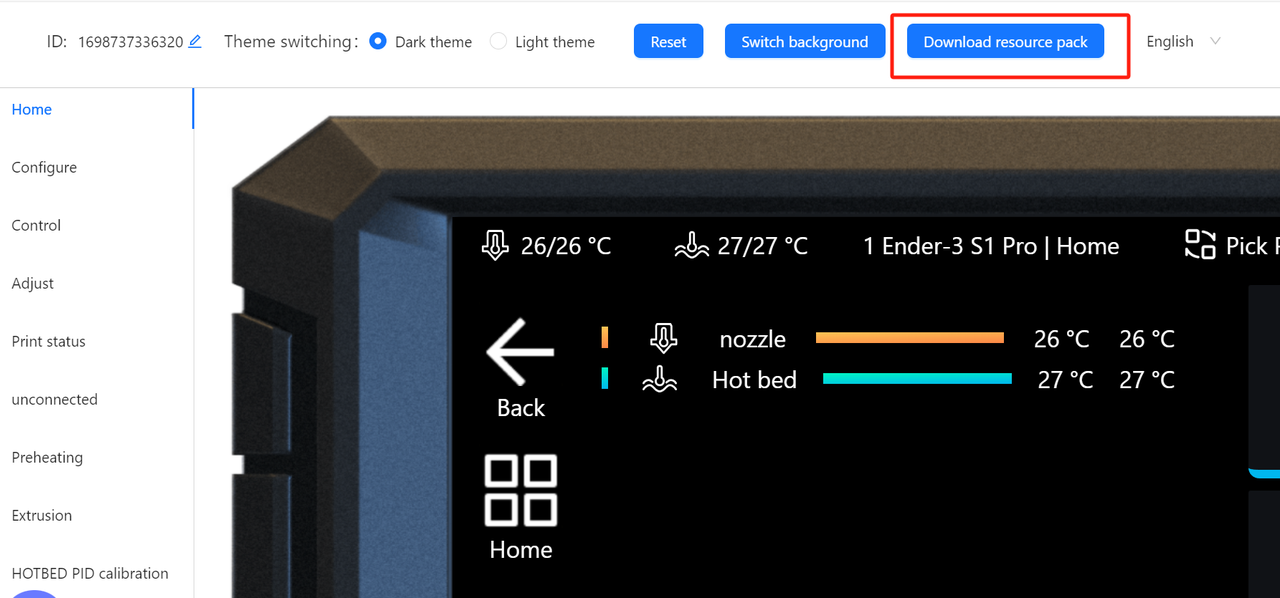 · Copy the file pack to the root directory of U disk;
· Follow the steps to upload the new UI to Sonic Pad (Setup>Theme switching>Customized themes)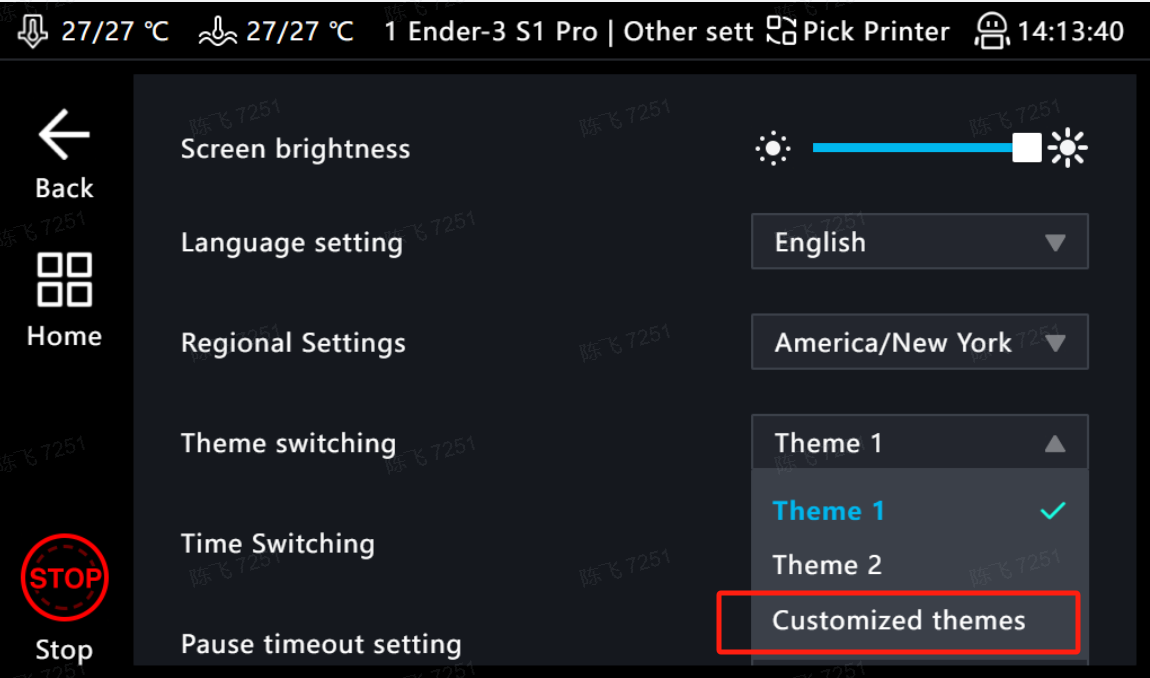 3. Add nine additional pre-configured printer models that support Creality Cloud
This new firmware adds nine new pre-configured machines supporting Creality Cloud, then Creality Cloud can support the slicing/printing function and remote control function. Below is the machine list:
Ender-5 Plus
CR-10S Pro V2
CR-10 V3
Ender-3 Max Neo
CR-10 S4
CR-10 S5
CR-6 Max
CR-M4
Ender-3 V3 SE
4. Add the AI detection for foreign objects on the printing platform
When there is a foreign object on the printing platform, the sonic pad will trigger the AI detection function and hint "Stop printing". The machine will start working after the foreign object is moved away.
5. Add the custom compilation options for the GD32F303 chipset
6. Optimize memory management modules under standby mode
7. Add a new entry for configuration file restoration in the Sonic PAD interface
The latest firmware adds a new entry for configuration file restoration, so it's convenient to restore the history configuration if you forgot the previous configuration parameter or the configuration parameter reports the error.
8. Optimize UI experience and fix other known bugs
Purchase from Official Store:
US https://to.store.creality.com/sonic-pad-us
EU https://to.store.creality.com/sonic-pad-us
UK https://to.store.creality.com/sonic-pad-uk
DE https://to.store.creality.com/sonic-pad-de
AU https://to.store.creality.com/sonic-pad-au
CA https://to.store.creality.com/sonic-pad-ca
Purchase from Official Amazon Store:
https://www.amazon.com/dp/B0BLJTB4Q3?maas=maas_adg_72EB2D6E138F8B139C335AC32FB27414_afap_abs&ref_=aa_maas&tag=maas