Hello, 3D printing hobbyists,
We would like to express our sincere gratitude for your continuous support and trust in Creality Cloud. As a token of appreciation for your loyalty, we are pleased to announce a user purchase feedback campaign. All customers who have purchased a Creality 3D printer are eligible to participate in this campaign.
To qualify for the campaign, participants are required to submit the relevant information as specified and undergo a verification process conducted by our official team. Upon successful verification, participants will be entitled to a three-month premium membership of the Creality Cloud.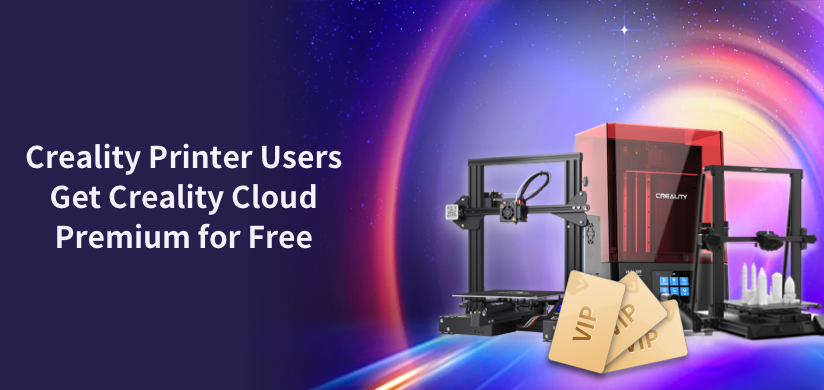 The campaign will close on December 31, 2023. We kindly request that you submit your information before the closing date for review through the designated link provided below.
FR: Formulaire d'inscription des membres
DE: Anmeldeformular für Mitglieder
PT: Formulário de registo de membro
PT-BR: Formulário de registro de membro
NO: Registreringsskjema for medlemmer
TUR: Üye Kayıt Formu
* Note: Users who purchased K1, K1 Max, and HALOT-MAGE PRO printers do not need to fill in this form, Please go to the corresponding campaign. Click here>>
—— FAQ ——
1. What are the benefits for the Creality Cloud Premium member?
A premium member of Creality Cloud can enjoy ad-free, faster model download speed, priority to slice, advanced slicer for multiple 3D models, double check-in rewards, exclusive 3D model downloads, and more benefits, to take your 3D printing to the next level, find more benefits here>>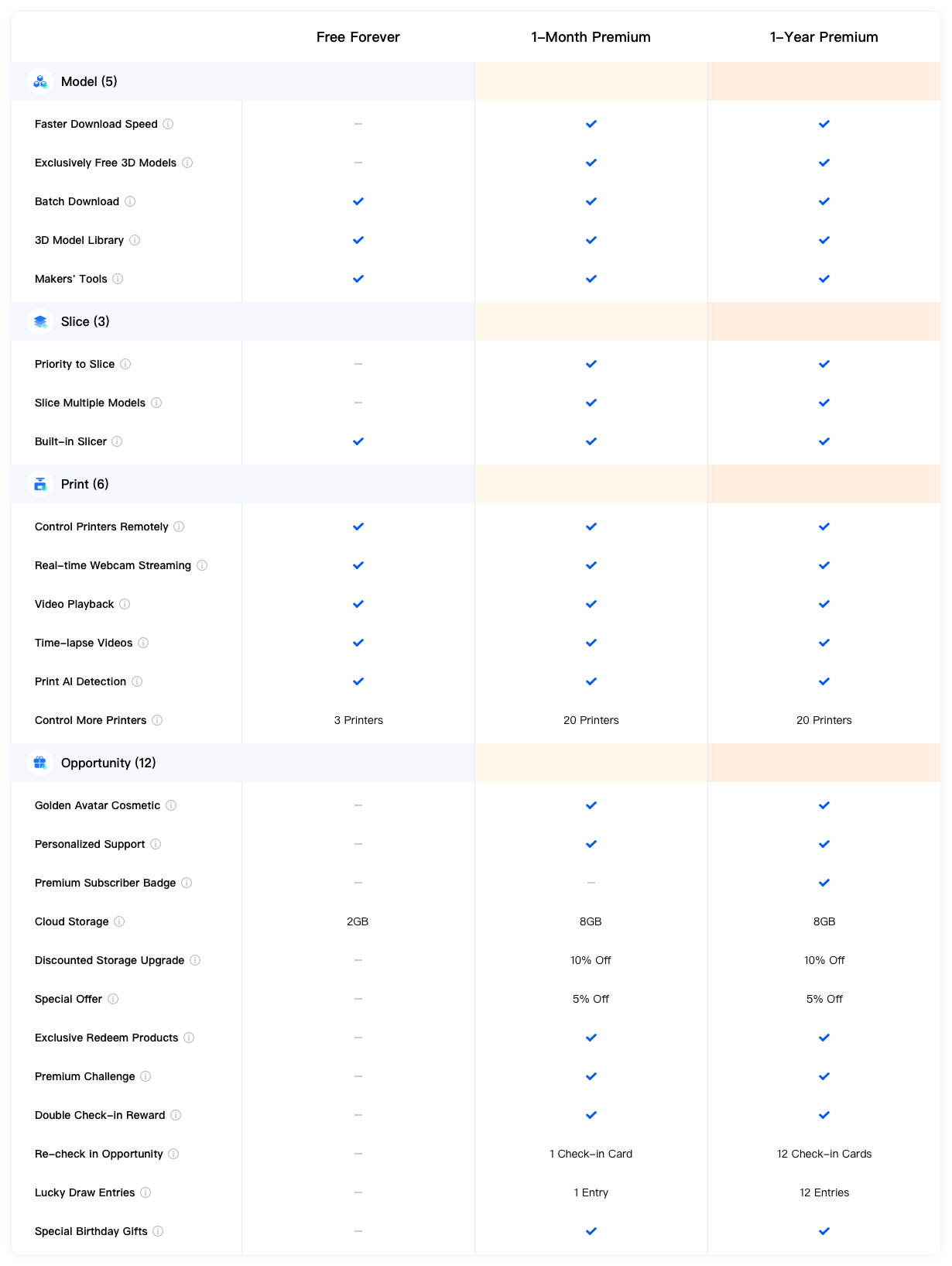 2. If I have more than one Creality 3D printer, can I get the longer terms of subscription Premium membership for free?
You can only get a 3-month Creality Cloud membership for free no matter how many Creality printers you own, as long as you have at least one of them. The terms of the premium membership will not be extended according to the number of printers you own. Thank you for your support.
3. What printers are included in this campaign?
Any kind of Creality 3D printer you purchased gives you access to participate in this campaign, including but not limited to FDM printers and Resin printers.
4. What is a Creality Cloud user ID? Where can I find it?
Sign up for Creality Cloud through the app or website, navigate to Personal Center, then you can find your user ID.
5. How can I get proof of my purchase?
It depends on which trading platform you bought the printer, such as Creality Store, Amazon, and offline channels, etc., You need to provide the transaction details, an invoice, or the relevant purchase receipt.
6. What should I do if I lost my purchase receipt?
Screenshots of purchase records on the trading platform can be accepted. Or you can provide pictures of Printers with dates.
7. When will I receive the Premium membership subscription after participating in the campaign?
Upon successful verification of Creality Cloud, we will issue the premium membership to your Creality Cloud account (the user ID) you submitted within 10 working days from the submission date of this questionnaire. Please check your account membership at that time. If you have not received the membership or have other questions, please contact us through the "Creality Cloud app>Account >Online Service".
8. What is the device ID and SN code? How can I find them?
How to find the device ID
If your 3D printer has built-in Wi-Fi and supports a Creality Cloud connection, you can find your device ID through the Creality Cloud app or the Creality Cloud website.
In the Creality Cloud app: Log in to your Creality Cloud account, navigate to Workbench>My Device, and then copy a string of numbers on the device that has been successfully added( as the picture shows).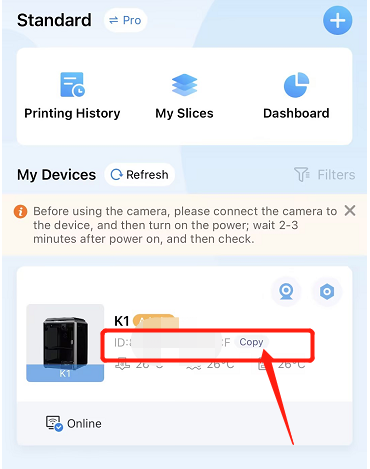 On the Creality Cloud website: Login to your Creality Cloud account, navigate to Workbench in the upper right corner of the home page, choose Devices, and then copy a string of numbers on the device that has been successfully added( as the picture shows).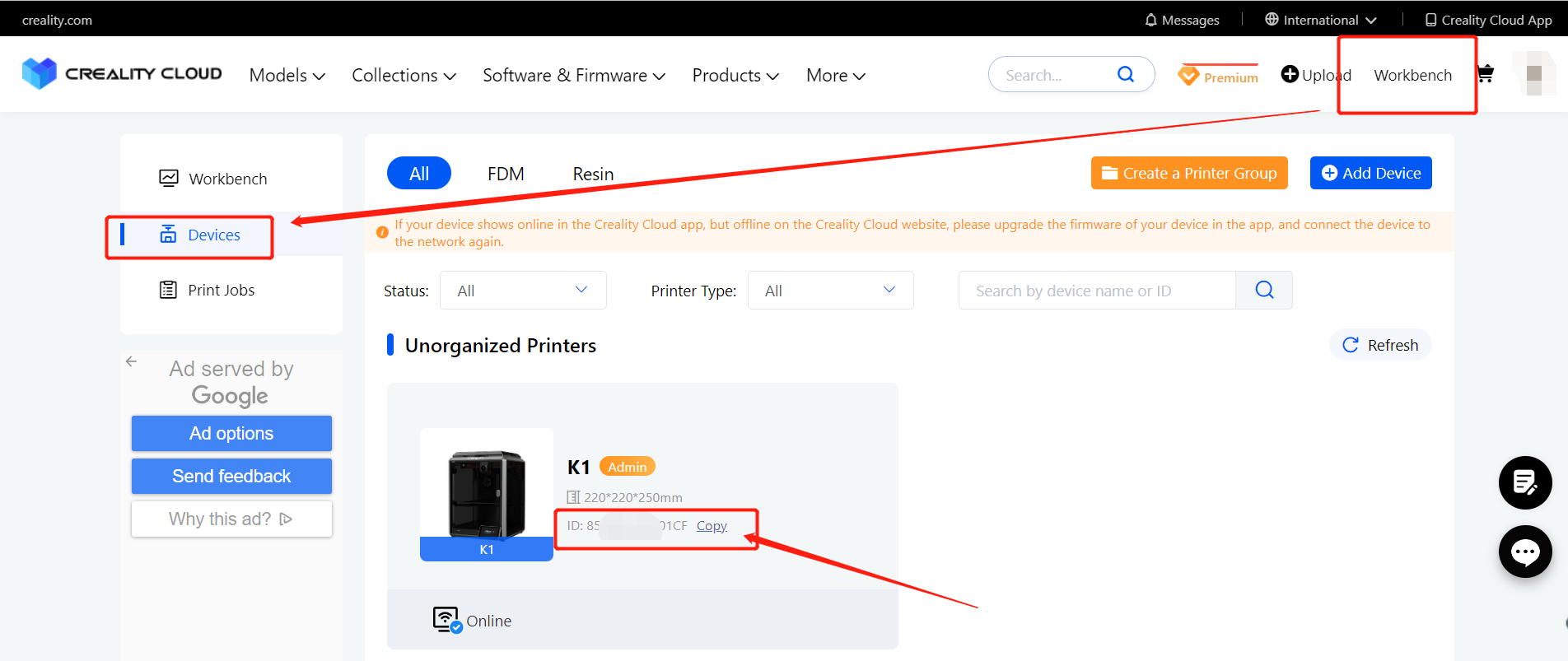 How to find SN code
The SN code is the serial number of a 3D printer which is positioned on the label of the printer. To find an SN code is to find the label which may be pasted on the back, side, and other positions of the printer. In general, the SN code of an FDM printer is pasted on the bottom of the printer, and the SN code of the Resin printer is pasted on the back of the printer. Please refer to the actual situation.