Shenzhen, July 10 - Creality, a leading manufacturer of 3D printers, is thrilled to announce the launch of its newest product, the K1 Max 3D Printer. With a better price and innovative features, the K1 Max aims to make high-quality 3D printing accessible to a wider audience.
The K1 Max was priced at $999 when it was first unveiled. To express its gratitude to users for their patience and anticipation for the product as well as their feedback and suggestions, Creality has decided to lower the price to $899, making it more affordable for aspiring creators.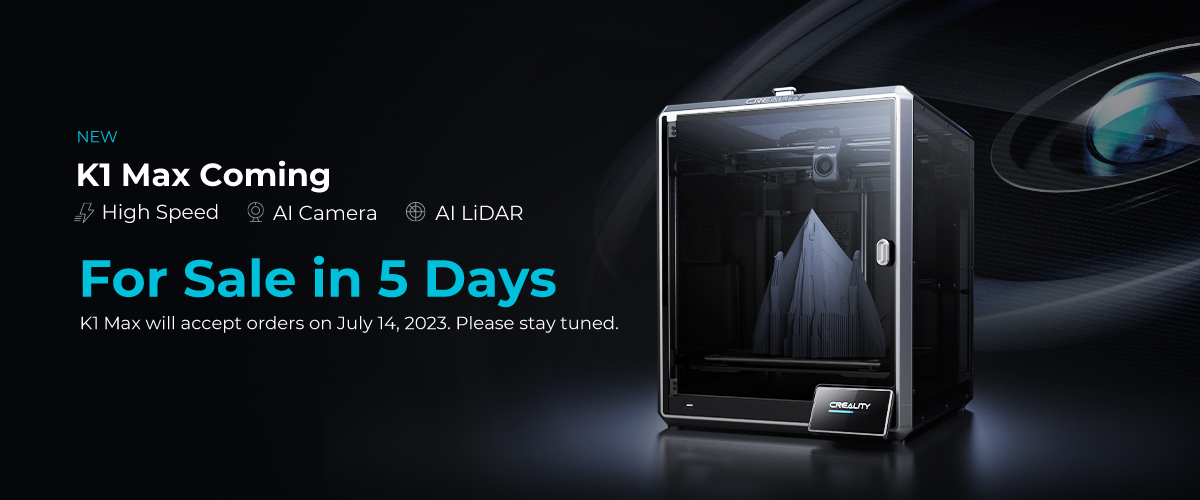 The K1 Max boasts an array of impressive features that cater to the needs of both professional makers and hobbyists. Reaching a printing speed of 600mm/s in only 0.03s based on 20000mm/s² acceleration and combining the nimble Core XY with a 190g lightweight printhead, K1 Max can be as productive as several 3D printers together, significantly boosting efficiency and kindling people's zeal for 3D printing. To boot, the machine boasts a 300x300x300mm large build volume, enabling rapid prototyping or design verification.
The printer also comes with an AI camera which can watch and alert for anomalies and errors besides real-time monitoring and creates time-lapses for sharing. With the high-speed printing capabilities, large build volume, and AI camera, the K1 Max provides users with an unparalleled 3D printing experience. Moreover, the printer incorporates AI LiDAR technology, further enhancing its performance and accuracy. For more detailed information about the product's features, please visit the Creality product page.
The K1 Max will be available for purchase across all channels starting from July 14th. Customers can visit the Creality online store, Amazon, or authorized dealers to get their hands on this cutting-edge device.
Exclusive Offers on Creality Store K1 Series Purchases
To celebrate the launch of the K1 Max, Creality is organizing exciting activities on its official online store. Customers who purchase the K1 Max – as well as K1 - from the Creality store will receive a complimentary one-year membership to the Creality Cloud, valued at $79.99. This membership includes
access to over 250 premium models, built-in model slicing capabilities, and cloud printing and monitoring features. For more information about the promotions, please visit the following links:
- US Store: K1 Max AI Fast 3D Printer
- EU Store: K1 Max AI Fast 3D Printer
- DE Store: K1 Max AI High-Speed 3D-Drucker
- UK Store: K1 Max AI Fast 3D Printer
- AU Store: K1 Max AI Fast 3D Printer
- CA Store: K1 Max AI Fast 3D Printer
Creality to Present Amazon Prime Day Discounts
Furthermore, Creality is excited to announce its participation in the upcoming Amazon Prime Day, a highly anticipated annual event that offers the lowest prices of the year. As a seller, Creality is proud to provide customers with unbeatable offers on this occasion. Taking place from July 11th to July 12th, this exclusive event offers Amazon Prime members limited-time discounts on select Creality products. Both the K1 and HALOT-MAGE PRO will be available at a special price of $629, reduced from their original prices of $799. Additionally, other Creality products will be offered at discounts ranging from 15% to 30%. Visit the following links to access the Prime Day discounts:
US: https://www.amazon.com/stores/page/19E5485F-8B43-45FB-97B3-DB306FF56872?channel=PR
UK: https://www.amazon.co.uk/stores/page/0983D76F-3601-4F81-910A-FE1EB04719ED?channel=PR
Germany: https://www.amazon.de/stores/page/AA5C50FF-B1C4-440F-835F-EB0B02EF7494?channel=PR
France: https://www.amazon.fr/stores/page/81B1A979-5C08-4BB3-8653-A6652EDAC373?channel=PR
Italy: https://www.amazon.it/stores/page/0849AD09-5015-4612-A9B0-6CB51472B4C9?channel=PR
Spain: https://www.amazon.es/stores/page/39FA5BA8-6FF1-43FD-958D-2390F8E14103?channel=PR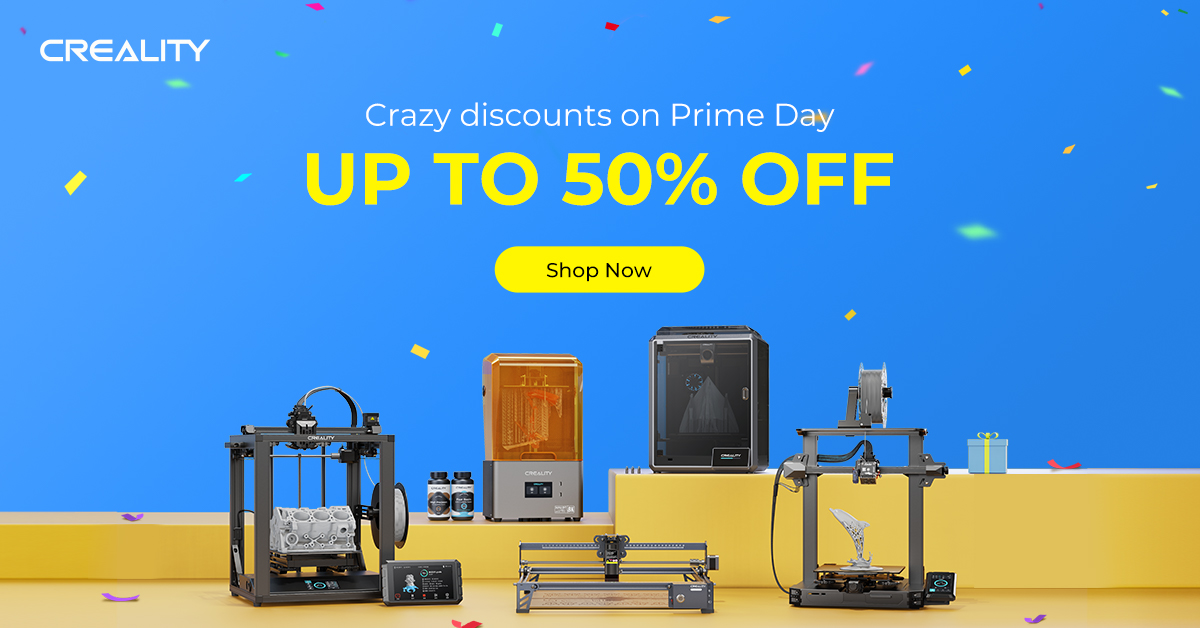 To chime with Amazon Prime Day, discounts of up to 50% will also be offered during July 10-16 on Creality store. For more details about the promotions, please visit Creality Store.

Media Contact:
brand@creality.com