The most loved winter festival is almost here! DIY gifts are a thoughtful way to show your love for your family and friends. Here we've rounded up 4 of the best DIY Christmas gift ideas for you.
1. Christmas Decorations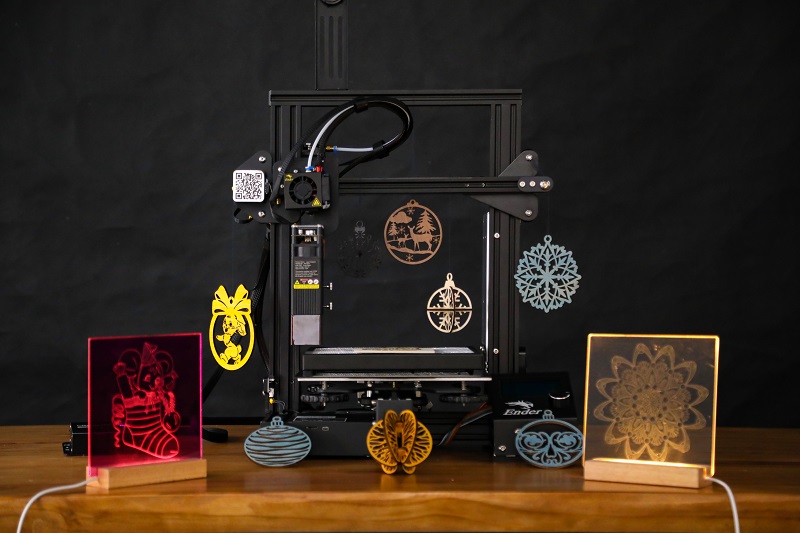 Acrylic lights or wooden Christmas ornaments can be good gift ideas for this Christmas. You can design an acrylic LED light or some ornaments with Christmas vibes exclusively for your family or friends. They should feel touched and warm every time they pass by a corner or work at the desk with these decorations.
DIYing some Christmas decorations is quite easy even on a 3D printer, when you have a laser module. It's a sensible choice if you don't have enough space or budget for a laser engraver. Creality has launched 3 laser modules, 1.6W, 5W and 10W, which allows you to engrave with your 3D printer in an affordable way. Just convert your 3D printer to a laser engraver and cutter easily by installing a laser module on it.
Creality Laser Module: Creality Laser Module
2. Christmas Cards
Christmas cards are a timeless gift option. Tired of giving the same old store-bought Christmas cards as everyone else? Try to engrave a Christmas card with all your unique designs and ideas. This will be something your loved ones actually want, and you'll be glad you made it.
Creality offers CR–Laser Falcon with 5W and 10W for engraving and cutting different materials. CR–Laser Falcon can tackle a larger engraving area and engrave taller items with heightened columns added. Providing more engraving options, the CR–Laser Falcon enables you to engrave Christmas window stickers for home or a skateboard that's very popular nowadays.
CR–Laser Falcon 5W: CR-Laser Falcon 3D Laser Engraving Machine - Creality Official Store
CR–Laser Falcon 10W: 10W CR-Laser Falcon Engraver
3. Lovely Santa Models
Want to make a unique Santa Claus for your loved ones? CR–Scan Lizard gives you a hand. CR–Scan Lizard can scan small parts and 3D prototypes with deep, hard-to-reach details. Up to 0.05mm accuracy helps capture even the finest detail. You can also re-model the Santa Claus, zoom in or zoom out, color it yourself, and make an exclusive Santa Claus.
CR–Scan Lizard: CR-Scan Lizard 3D Scanner Standard Combo
4. Colorful Santa Models
This is a multi-color Santa Claus model option if you prefer some colorful things. Creality has released Ender–PLA+ rainbow filaments for those who want their creations more impressive. A colorful gift definitely makes your family and friends feel better and enriches their lives. After assembling the rainbow filaments on your 3D printer, you can enjoy the fun and surprise it brings.
DIY Christmas gifts are extra meaningful while it's easier on your budget. Enjoy 10% off from Dec. 14 to Dec. 20 during Christmas sale for the tools and products we mentioned above. Design and create your unique Christmas gifts now.
Christmas deals: save up to $100 now!!