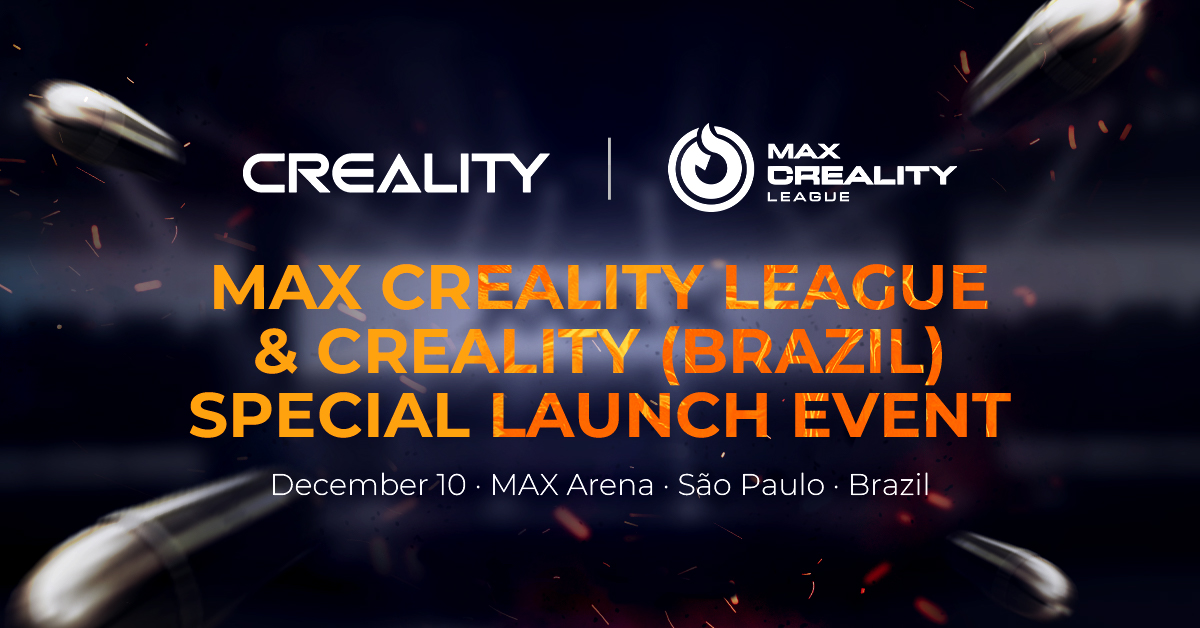 Creality, a global pioneer in 3d printing, becomes the sponsor of Max Creality League, one of the major e-sports tournaments in Brazil featuring the mobile game Free Fire. The event is held by Max Arena, the largest gaming arena in Brazil, where 3200 e-sports teams compete and a total of 120,000 BRL (22000 USD) will be offered to the top 3 winners.
The event is currently on the group stage and the final will be held on December 10 (Brasilia Time). LOUD, Los Grandes and other six invited teams secured direct spots in the event, and are joining the group stage with the other eight teams who won the first stage.
At the final event, Creality will hold a special product launch on stage, releasing the flagship Ender-5 S1, professional-grade Sermoon D3, Klipper-integrated Creality Sonic Pad, CR-Laser Falcon Laser Engraver, and CR-M4, a high-end 3d printer with large build volume. Victor Pruner, Sales Manager of Creality in Brazil, will introduce the new products to the worldwide audience on stage which will also be live-streamed simultaneously.
Free Fire, the game featured in the event, is a third-person shooter battle royale game exclusively released on mobile devices in 2017. Data from Cultured Vultures shows that Free Fire and Free Fire Max generated 43.6 million installs in 2021 and was the most popular in South America. In October 2021 alone, it was downloaded 34 million times, with 12% from Brazil.
According to gaming intelligence Newzoo, Brazil is the world's fifth largest market by the number of players in 2022 and one of the fastest-growing games markets in Latin America. A survey conducted by Brazil Bank Itaú last year also shows that 96% of children living in favelas want to be professional e-sports players, meaning e-sports is joining football as the main favelas dreams for youngsters.
Through the sponsorship of the e-sport event, Creality is expected to spark the interests in 3d printing of Brazilian young talents, and expand its presence in Brazil's education sector, after the success of the Space Robotics project held in 2021.
For more info about the event: https://linkr.bio/maxfyreleague