LD series specializes in resin 3D printing, and they are usually applied to the manufacturing industry because of its high precision.
The year 2020 has witnessed the birth of a new member of Creality, Creality LD-002H Resin 3D Printer, an upgraded version of the Creality LD-002R 3d printer.
Although they are similar in appearance, the LD-002H resin 3d printer adopted more professional and advanced technology, making it a great product for business start-ups.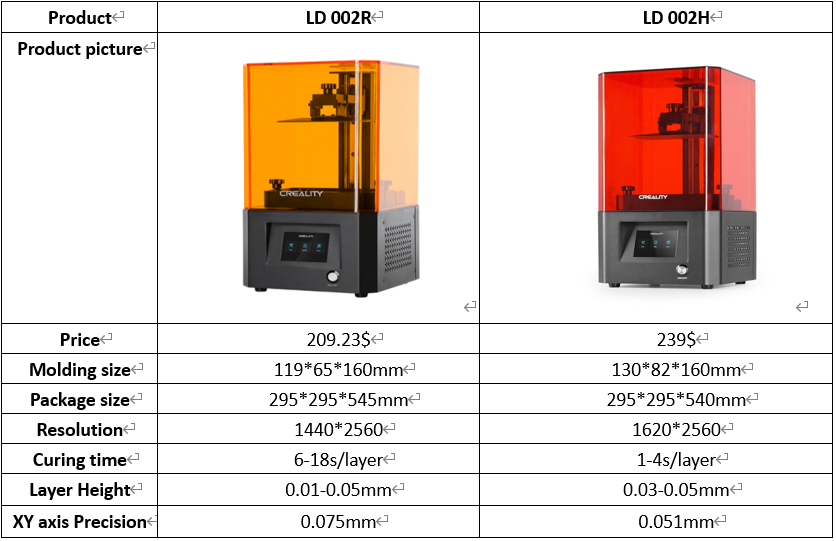 Larger Molding Size
Creality LD-002H 3d printer adopted a molding size of 130*82*160mm, which is much larger than its predecessor LD002R's 119*65*160mm size.
Perhaps you do not have a clear conception of the change in size. Just imagine you just can print phone holders, small decorations, or toys before, but now you can print tall statues, dinosaurs, and even complex architectural modeling.
Does this is really a great change? With this new printer, you no longer need to buy various kinds of toys for your children. You may even start your own business using the model featuring wide choices, easier operation, and higher efficiency.
Higher Resolution
LD-002R resin 3d printer, a 2K uses a solid-state display system of 1440*2560 pixels. It avoids tough surfaces and provides you a delicate and smooth texture.
But for industrial use, there is still much room to be improved on the resolution of the printers.
So the LD-002H resin 3d printer adopted 1620*2560 higher resolution with higher precision. Now the machine is able to manifest every detail of the model to us. This satisfies your needs for higher-quality products.
Quicker Curing Time/Printing Speed
It takes 6 to 18 seconds for the Creality LD-002R 3d printer to print each layer. So if your son is waiting eagerly to have a new toy, or you want to produce more products for your company, the LD-002H resin 3d printer is a good choice.
Creality LD-002H costs only 1-4s to print each layer, and it uses an LCD HD screen with enhanced transparency, increasing speed up 10% to LD-002R resin 3d printer.
More Environmentally Friendly
Some of you may know that the printers will release odor and impurities when printing. Creality pays a lot of attention to customers' health and user experience.
LD-002R 3d printer can remove part of the stench of exposed resin from the air. LD-002H resin 3d printer upgraded its air filtration system with activated carbon, so it can effectively reduce the odor and impurities and more environmental-friendly.
More Stable Performance
Have you ever encountered this situation: You are in a hurry to print a model, but you failed to print it several times. Unsuccessful printing not only discharges many users but also waste our materials.
Here comes the good news. The new print LD-002H adopts an upgraded UV Light Source Module and an upgraded transmission system. Compared to the LD-002R resin 3d printer, it greatly improved the stability of the light source and the success rate of printing.
If you're interested in our resin 3d printer, please email cs@creality.com, our sales manager will give you a 3d printer solution soon, thanks.