"Can I make it a dual extruder printer?"
This must be the most popular upgrade question on the Creality Ender-3 3d printer.

Is It Possible to Upgrade a Dual Extruder on Ender?
Dual extrusion is making use of multiple filaments within a single print. One of the primary advantages of using dual extrusion is the capability to print with numerous materials. For example, using a soluble support material makes model cleaning much faster and easier.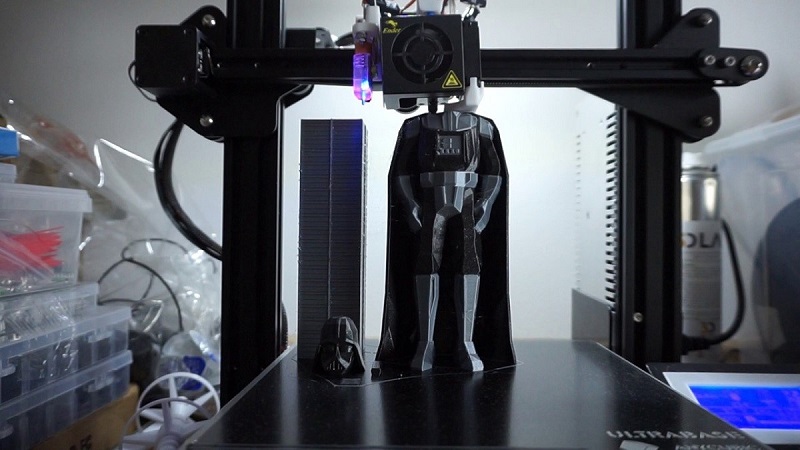 Is it possible to add this benefit to Creality Ender-3's existing checklist? If you're willing to do a bit of work, the answer absolutely is "YES!"
As an example, it's crucial to keep in mind that any kind of dual extrusion upgrade to the Ender-3 FDM 3d printer will require a brand-new control board, as the stock version doesn't have dual extrusion abilities.

Along those same lines, the constraint of hardware is a vital aspect to take into consideration when presenting alternatives. A number of the following choices are either still in the R&D phase, or are open-source and also created by enthusiasts.

With that claimed, let's probe a little much deeper into what dual extrusion implies, and after that have a look at what alternatives exist for the Creality Ender-3 3d printer!

" True" Dual Extrusion
As it stands, there are no standard versions of the Ender-3 FDM 3d printer that will enable it to print with 2 or more nozzles (i.e. "true" dual extrusion).
Yet that's not to say that people have not come up with their own solutions.

Being an Ender-3 3d printer user means that you're a component of a massive innovative area that's frequently pushing to make brand-new modifications that help everybody and to make this printer so remarkable.

As time continues and modern technology revolutionizes, dual extrusion for the Creality Ender-3 may come true, however, you'll need to leave it to the un-professionals at this moment.

Dual Extrusion Option: DIY Chimera Project
One of the designs that will certainly enable true dual extrusion on Creality Ender-3 is the DIY option by Jonathan Holman (krestoverson).

This idea integrates 3D printed parts as well as the readily available E3D Chimera hot-end to make a functional dual extrusion system.
On the Thingiverse page publishes the detail parts listing and instructions, which is, however, was made for an Ender-4 3d printer, would be also supposed to work on your Creality Ender-3 since the X-gantry is essentially the same.

Multicolor Printing with a Single Nozzle
This is where points get fascinating. Multicolor printing is different from dual extrusion because it only makes use of one nozzle and changes filaments throughout a print. This enables you to make use of the hotend currently installed on the Creality Ender-3 3d printer!

The drawback to multicolor printing is that there's even more plastic waste, as you have to clean out (or "remove") the nozzle after each material adjustment.
Likewise, you can only utilize very comparable material during one print, as a result of distinctions in temperature and cooling requirements.

In complying with areas, you'll see a couple of various approaches for making multicolor printing a reality on the Ender-3 FDM 3d printer.
A few of the methods below are specialist "ready-to-run" systems that have actually been examined.
Others are made by hobbyists, but that doesn't indicate that they won't function! In fact, they may also be a better fit for you!

Multicolor Option 1: DIY Multi-Material Solution
If you're interested in making your own solutions, this is the most appealing one for you. YouTuber Zemistr has developed a system to transform the Ender-3 3d printer into a multi-material printer.

Integrating 3D printed parts and some commercially-available items, Zemistr will provide you the most detailed solution on how to set up this system.
The concept is to incorporate 2 Bowden tubes into one and pull back the filament that's not being used.
It's open to modification and will more than likely work even if you have a little various parts. The only point left to do is intend a weekend break for it!

Multicolor Option 2: Cyclops Hot End
Ender-3 3d printer customer Shaun Forgacs (zrxmopar) has actually achieved an upgrade that allows multicolor printing on an Ender-3 3d printer with a couple of commercially-available and 3D printed components.
This system utilizes an E3D Cyclops hotend, which can mix 2 filaments along with fundamental multi-material printing.
It ought to be compatible with a Chimera double nozzle hotend (which has the very same form factor as the Cyclops) for real dual extrusion, however, this hasn't yet been examined.

Dive into this well-documented upgrade and see what the limits are if you're up for a challenge! The data and components checklist are readily available on Thingiverse.

Multicolor Option 3: 3-into-1 Hot End
Though it's based upon the very same principles as other modifications, this project is slightly different.

Acquiring some parts from other creators in the open-source area, Kenneth Shotwell (shotsy) put together a practical system that generates multicolor components.
Utilizing a 3-into-1 hotend as well as a customized mount, and cooling system, it allows the Ender-3 3d printer to print (or mix) 3 separate shades in a single print!

While this variation might be somewhat extra included, it isn't any type of much less enjoyable. The parts list and also files are offered on Thingiverse.

Multicolor Option 4: Zero Physical Modifications
You might also want to take this service a shot if you've only got about 10 minutes to spare.

The most basic of all, this design of multicolor printing on the Creality Ender-3 3d printer is a breeze. Clarified by YouTuber CHEP, altering a few settings in the Cura Engine as well as a little patience can lead you to incredible outcomes.

With this tutorial, you will how to stop the Ender-3 FDM 3d printer at a certain height, change the filament, and afterward proceed to print right on top of your prior print.

There are many methods for you to take this as well as add it on, and then you'll have a good time seeing how far you can push the limit.

Multicolor Option 5: Mosaic Palette 2
The Mosaic Palette 2 is a commercially-available alternative for both professionals and makers seeking to print multicolor consistently.

Included with the Palette, you can splice as well as integrate up to four various colors of a single material.
The machine functions by reducing pre-measured sections of filament and also merging them right into one strand, so multi-material only functions if you have filaments that will fuse with each other. Numerous YouTube videos exist in detailing this procedure.