Live with Passion, Print with Creation! Creality's 2nd Modification Master will be held on December 21st, 2021, are you ready to join us?
Creality's 2nd Modification Master is around the corner! To encourage more users to participate in the contest actively and inspire their creativity, we have set $30,000 and fantastic prizes.
There will be 16 winners in total, and the top cash prize is $10,000. In addition to the cash prize, you can also be awarded the title of Creality's Chief Experience Officer and enjoy the privilege of experiencing two new 3D printers for free for one year.
Taking action to modify is a significant step to achieve the modification dream. The 3D printer modification can allow makers to enjoy the DIY fun and impress people with creativity. During Creality's 1st Modification Master in 2021, there were nearly 10,000 participants who maximized their imagination and skills to set off a "modification boom" in the 3D printing circle and gave birth to many excellent modification works.
This year, the contest will be divided into two groups: the classic series modification group (participants should modify Ender-3 S1) and the conventional series modification group (participants should use Creality 3D printers except for Ender-3 S1). Participants are welcome to retrofit Creality's 3D printer excellently and imaginatively.
It is worth mentioning that Creality fully incorporates user suggestions in product development, prioritizes the user experience, maximizes users' wisdom in R&D, and continuously launches products that satisfy users. The modified machine Ender-3 S1 inherits the advantages of its precursor Ender-3 and draws inspiration from Creality's 1st Modification Master last year. It's well fit for Makers and novices.
This year, we have optimized the contest rules, and the public will have a more significant say in deciding who the ultimate winner will be. First, the organizing committee of the contest will make the preliminary selection of the works according to innovation, user experience, portability, and ease of use, then, the public will vote online for the entries that have entered the final round following the principle of openness and fairness and then select the ultimate winners.
Creality's 2nd Modification Master has received a warm welcome since it's launched. Now the competition is in full swing.
Don't forget to submit your entry from December 21st, 2021 to March 16th, 2022.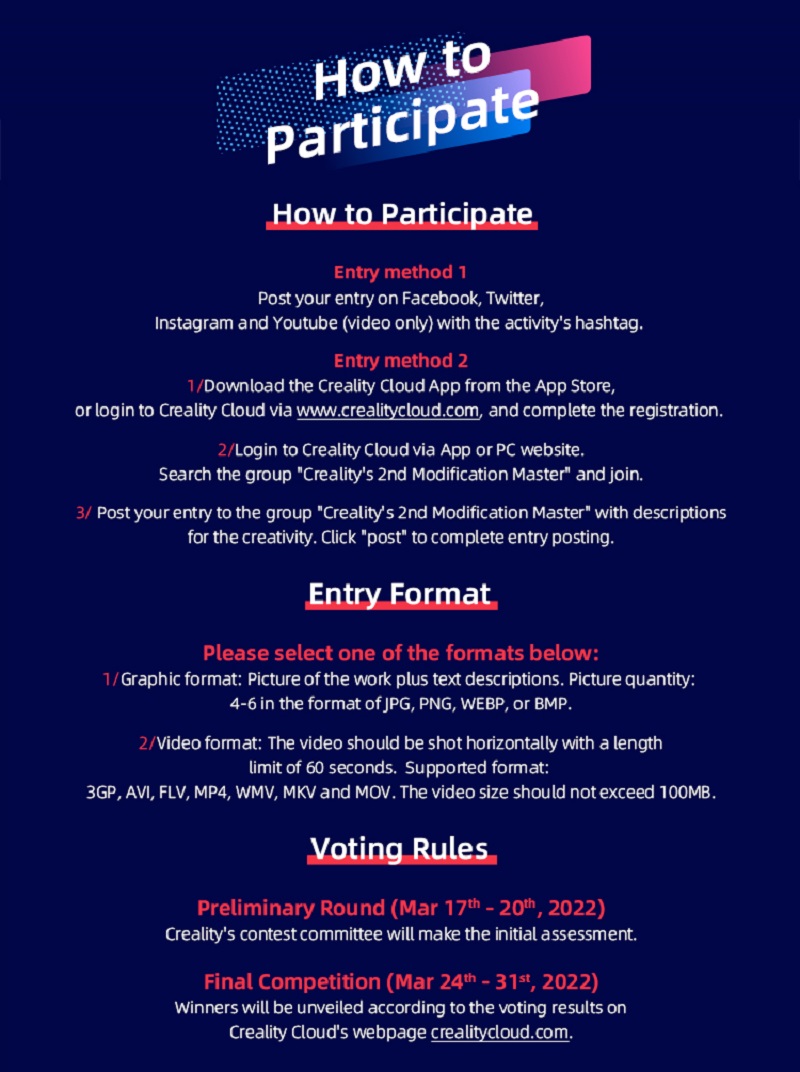 You fantastic Modification Masters, don't miss the chance to win great prizes! Why not show us your passion and creation?
We are looking forward to your participation! For more details, please visit the webpage of Creality's 2nd Modification Master via Creality's official website or Creality Cloud.
Feel free to contact us via giveaway@creality.com if there is any question.