Creality is going to participate in UAE GITEX Technology Week at Dubai World Trade Center.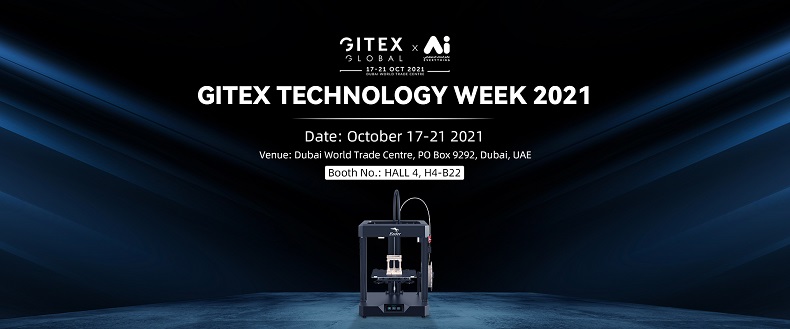 During the technology week, Creality will showcase 11 3D printers highlighted by different features in the exhibition hall. These printers can meet the diverse needs of customers. This will be the first showcase time for Creality in GITEX Technology Week.
With the history of 41 years, CITEX Technology Week is the most famous grand meeting in the field of technology and it gathers industry leaders, startups and some professional researchers. The annual exhibition will announce the most outstanding technology development. GITEX is also the unique global exhibition with focus on the most outstanding technology development, including artificial intelligence, 5G communication, cloud computing, big data, data safety, blockchain technology, quantum computing, immersion marketing technology, financial technology and so on.

(Creality's factory/ Creality's certificates)
Founded in 2014, Creality is a 3D printer manufacturer with professional researchers and engineers. We dedicated in the research breakthrough of 3D printing technology and we already have some creative solutions, such as (FDM/RESIN) printer, filament, 3D optical scanner, filament 3D printer and so on.
During the Dubai GITEX Technology Exhibition, many amazing products like the one of Ender series—Ender-7 3D printer and many resin 3D printers will be displayed by Creality.
In addition to the display of filament, resin, scanning and other 3D printers, many environmentally friendly products will be displayed gradually.
We will organize a special activity so that people can have a deep understanding of our project—Brazil Space Robotics and learn about how to print out the robot model by 3D printer.

(Exhibit Printer Catalog)

(Space Robotics Program)
You will have a unique and enjoyable experience at the Gitex Technology Week by watching and trying our products. As our goal is to introduce high-quality 3D printers to all ages in all industries, the on-site activity will be the best way to learn the 3D printing technology quickly.
Booth:(H4-B22, Hall 4, Dubai World Trade Center, UAE