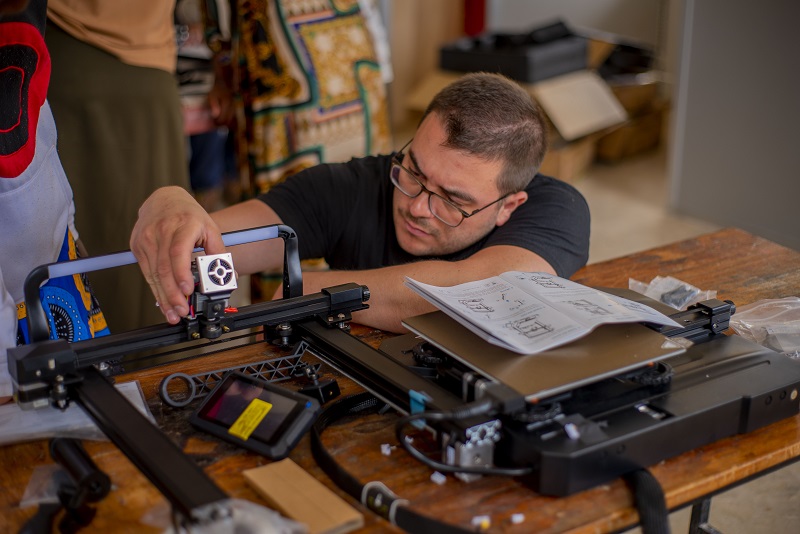 On the east edge of Lake Victoria not far from the Kenyan border, Musoma is a city in Tanzania that attracts visitors for boat trips, deep fishing or just walking down the beach with a beautiful sunset. It is also a city full of traces of this country's early history as it is near Butiama, the hometown of Tanzania's first president.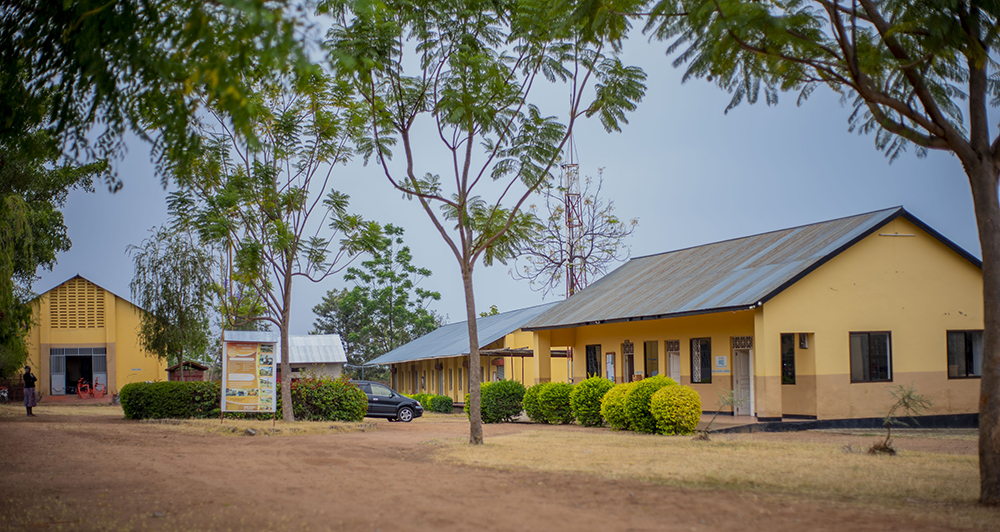 (Views outside Lake Victoria Disability Centre)
Unfortunately, the disability prevalence in this area seems a bit higher than in the other regions in the country. According to a report in 2020 from the Institute of Development Studies, 9.3% of the Tanzanian population aged seven years and above had some type of functional limitation, while the disability prevalence in the Mara region is 15%, where Musoma serves as the regional capital.
John, a 37-year-old man in Musoma, was one of the unfortunate. He lost an arm in a motor accident and always hid his amputated arm by his coat or scarf. But now a 3d printed hand with a traditionally made socket boosts his confidence. The man who made him a new arm is Rajabu Hamis, the founder of the pay-what-you-can prosthetic and orthotic clinic TABASAMU. With the help of the two 3d printers donated by Creality including an Ender-5 Plus, Rajabu is able to reach out to and help more people in need.
"We thank Creality for the donation of the printers and filaments, and with larger sized printers such as Ender-5 Plus, we are able to print larger devices on them without slicing the gadget into two pieces," said Rajabu.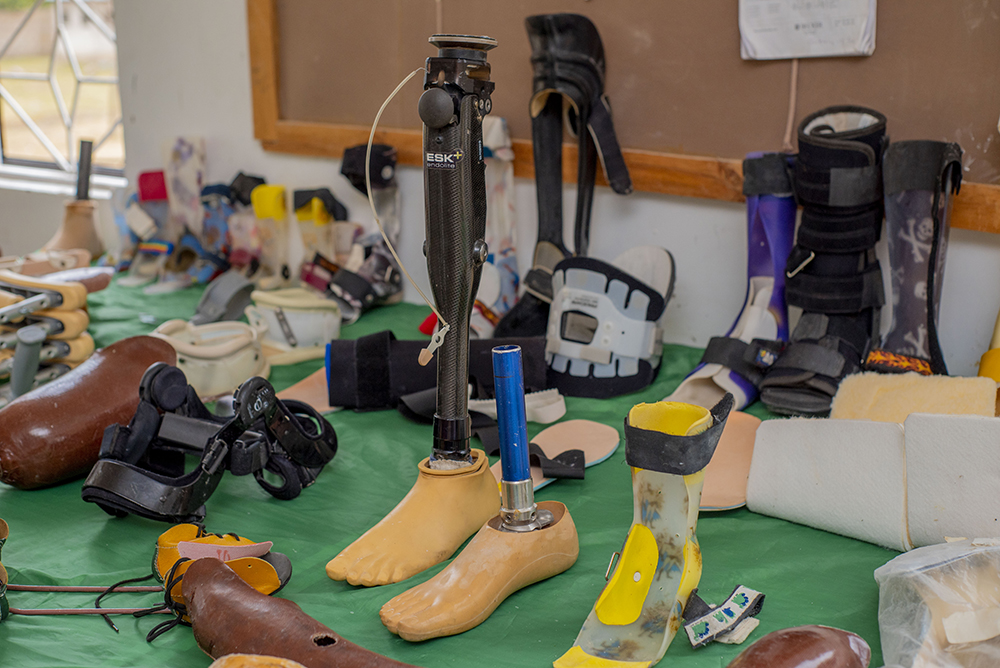 Creality's here to help
Through Kyle Reeser, a Creality user and biomedical engineer from New York, Creality donated six 3d printers with 30 spools of filaments in Mosoma, which are distributed between TABASAMU and Lake Victoria Disability Centre (LVDC). In LVDC, Kyle provided training on how to use 3d printers to the staff, and in TABASAMU, he helped several children to get low-cost 3d printed assistive devices.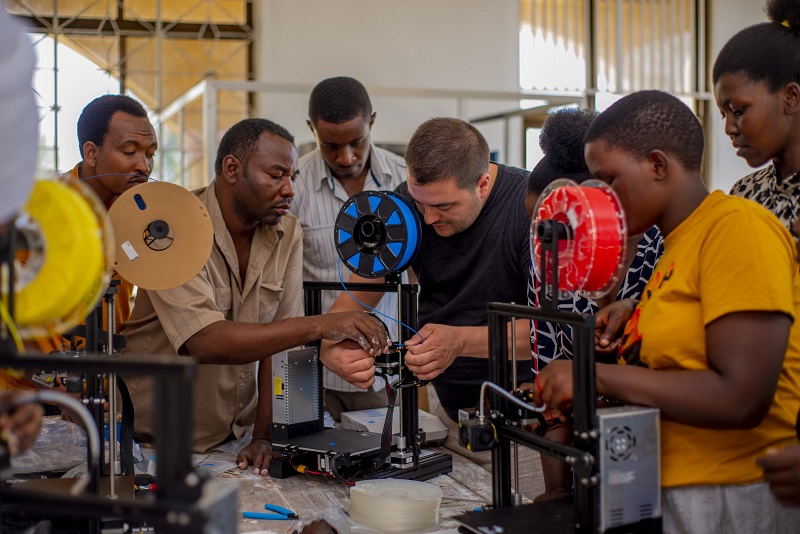 (Kyle is teaching LVDC staff how to use Ender-3 3D printers)
"Over the course of three days, approximately 10 LVDC staff members worked to help us assemble and calibrate the printers, and then participated in a series of in-depth training sessions learning 3d modeling, slicing, and operation of the printers," said Kyle. "They all showed interest in different aspects of the 3d printing process: some were very interested in CAD modeling, others were interested in operating the 3d printers, and still others took more of an interest in the engineering of the 3d printers, volunteering to perform maintenance on the printers as needed. For successful use in the workplace, it's important to have people who are drawn to all of these aspects of the process."
After the training session, LVDC plans to use the 3d printers for creating custom prosthetics and orthotics, for educating students, and for creating toys and promotional items for the children and adults who visit the center.
In TABASAMU, Kyle and Rajabu helped five children directly, and several babies indirectly. "We provided four children with custom, professional prosthetic legs through TABASAMU," said Kyle. "We 3d printed a prosthetic hand for a young girl, and Rajabu Hamis produced a professional prosthetic arm to attach the 3D printed hand."
Rajabu, a professional prosthetist and orthotist used to work at LVDC, chose to open his own clinic in the hope of serving more members in the community. The clinic focuses on children under 18 years old but also accepts and treats adult clients at a relatively lower price.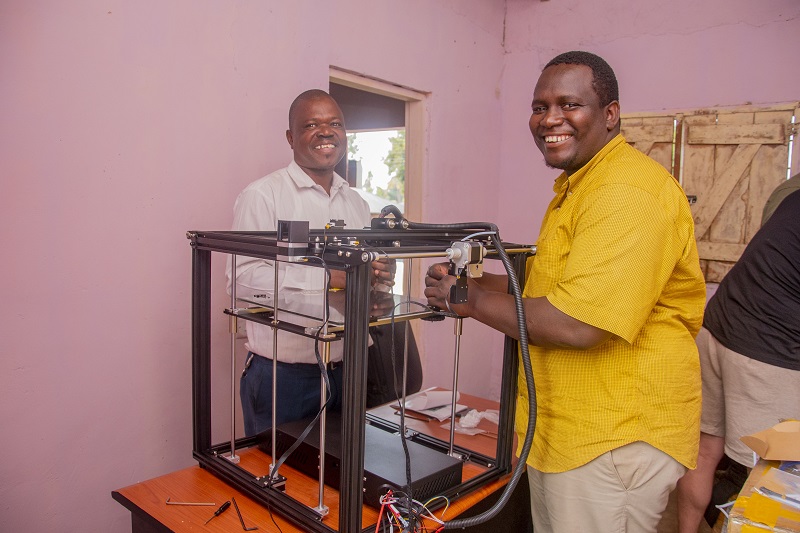 (Rajabu [on the right] and his colleague are assembling the new Creality Ender-5 Plus printer they received at TABASAMU.)
As a fast learner, he self-taught 3d printing on YouTube alongside knowledge in design and scan, and managed to design and 3d print orthoses for babies with clubfoot.
"I was lucky enough to be introduced to 3D printing technology in 2017 when we were using it to print orthoses to prevent the recurrence of clubfoot condition of babies who have finished using ponseti method of treatment," said Rajabu. "Being involved much into treatment of clubfoot by using a ponseti method, I saw that more than 75% of babies after using the ponseti boots or braces have the elements of recurrence of clubfoot condition, so we had to find and provide them with ankle foot orthoses, and the quick way to produce it was using the 3D printed ones."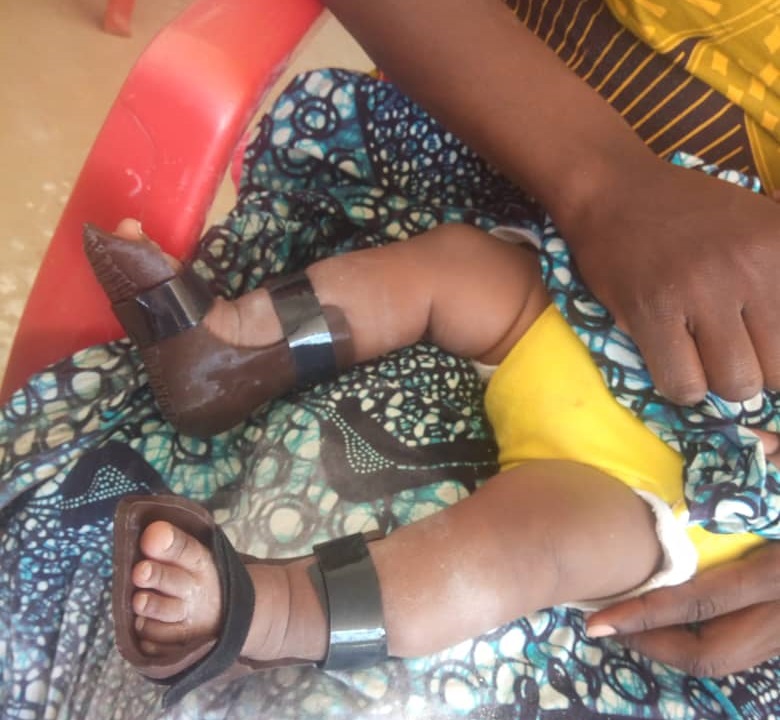 (The 3d printed orthotic device with traditionally made brace for clubfoot babies.)
During Kyle's time in Musoma, he worked closely with Rajabu and helped assemble the 3d printers, see babies with clubfoot, and advise parents on how to care for the gadgets to prevent early worn-out.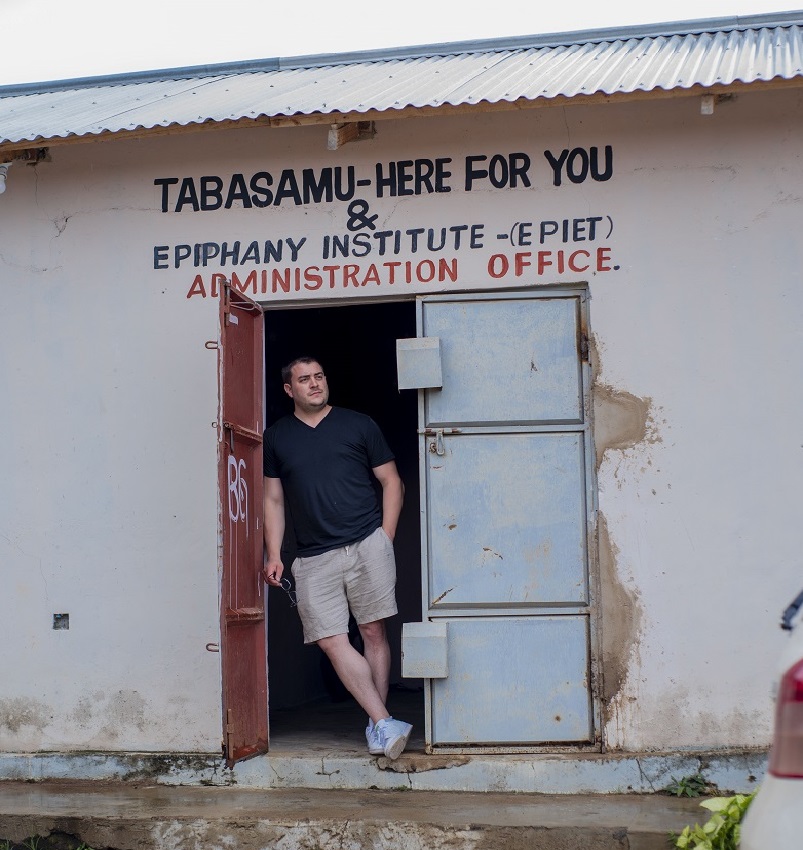 (Kyle leans against the door of TABASAMU.)
"3D printing technology is so important nowadays in the production of prostheses and orthoses," said Rajabu. "It is a cheaper option compared to traditional method, and 3D printing technology can produce gadgets faster compared to traditional method."
Giving back to the community
Apart from utilizing 3d printing to help children and adults, Kyle also held a food party funded by Creality for over 100 community members for their kindness and hospitality. The food party also served as the grand opening of TABASAMU.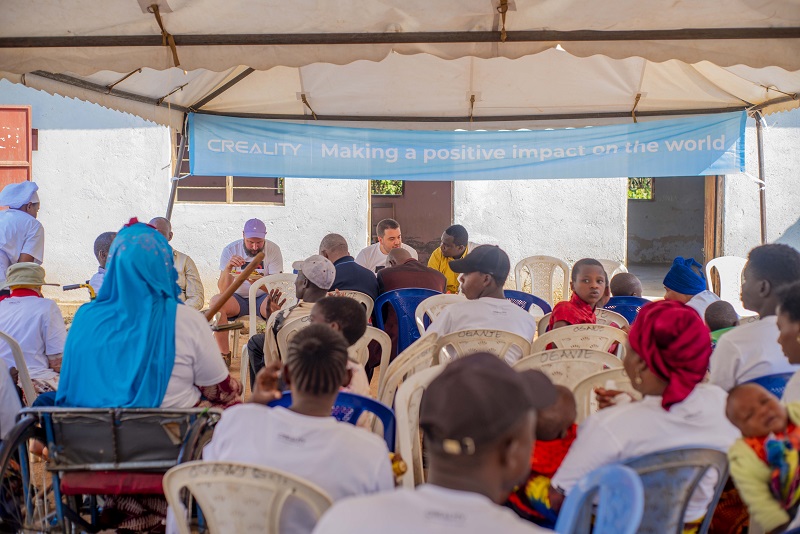 (The food party funded by Creality hosted over 100 community members.)
"Seeing all the happy faces of the people who attended the food party funded by Creality was a pleasure," said Kyle. "The generosity of Creality in both donating products, as well as funding the food party did not go unnoticed, and the machines especially will be a gift that keeps on giving."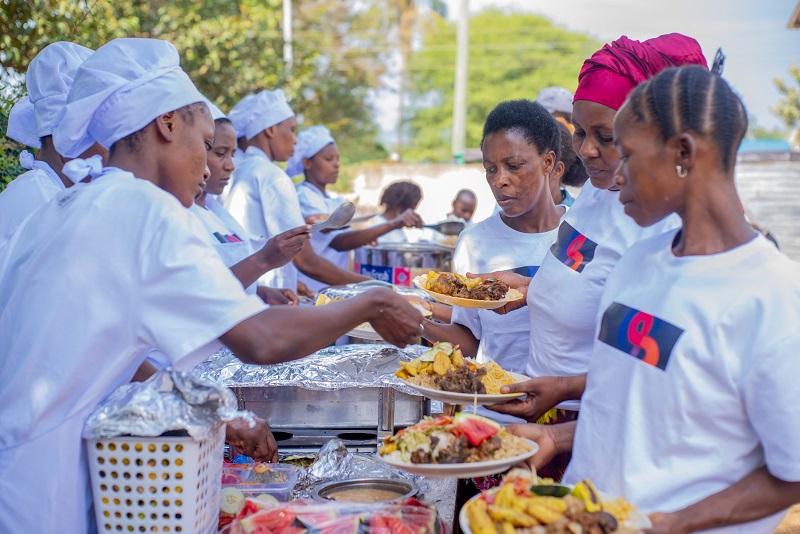 (The staff are distributing food at the food party.)
Looking ahead, Kyle sees the challenges of sourcing 3d printing accessories in Musoma. "As a developing region, Tanzania does not have a robust 3d printer market and it's often difficult to find items others take for granted. My colleagues in Tanzania tell me that they often need to special order items from Nairobi, Kenya, and it can take quite a while to receive these products," said Kyle.
But he is confident in the prospect of 3d printing in Tanzania and around the world. "One great promise of 3d printing is the ability to design and print replacement parts for the home, for industry, etc. and not need to waste precious resources special ordering these items. I believe as the 3D printing industry continues to grow around the world, it will become ever more commonplace to repair what we own instead of replacing it."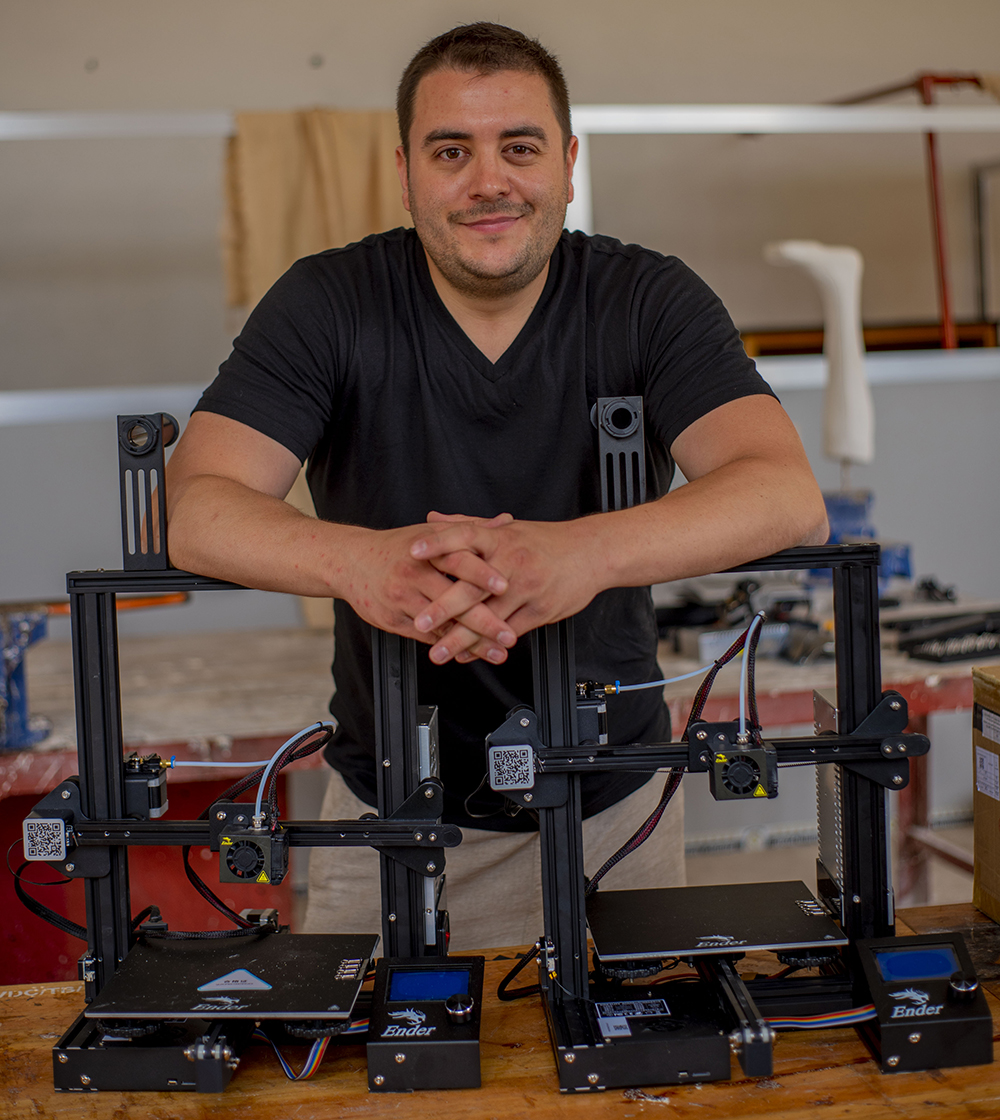 (Kyle with Ender-3.)
As for Rajabu, he said the plan for his clinic is to become a one-stop center for physical rehabilitation in lake zone part of Tanzania. They will reach and help more children in remote areas, striving to reduce or eliminate clubfoot. He also told Creality that he is teaching his assistants how to 3d print and looking for opportunities to offer training to prosthetist and orthotist in Tanzania and the neighboring countries.
Kindness takes on various forms, and this time it comes in the shape of 3d printed arms and legs. As a 3d printing industry evangelist, Creality will continue to help more people with the power of 3d printing, and a big thank you to all the users who made this happen!
For more stories about Kyle:
https://www.creality.com/blog/lending-a-hand-a-creality-users-mission-to-provide-prosthetic-devices-to-children-in-tanzania
https://www.creality.com/blog/kyle-reeser-embarks-on-his-mission-in-tanzania-to-provide-prosthetic-devices-to-children
Welcome to share us your story on how 3D printing/ Creality have made an impact on you or your community to brand@creality.com.