Creality, a distinguished leader in the 3D printing industry, is elated to announce the resounding success of ShareFest Maryland 2023, our second user meetup. Hosted on October 1st in the charming locale of Edgewood, Maryland in USA, ShareFest continued its commitment to unite and empower the global 3D printing community.
A community united by passion
Creality has always strived to provide a welcoming platform for 3D printing enthusiasts to come together and share their common passion. The inaugural ShareFest event, held in Goshen, IN, on June 25th earlier this year, was met with unbridled enthusiasm, and the positive feedback received resonated deeply with our team. To maintain this momentum and spirit, ShareFest Maryland 2023 was designed to take place post the renowned ERRF (East Coast RepRap Festival) 2023 which also saw Creality's active and successful participation and to prioritize user insights and delve into the infinite world of 3D printing technology.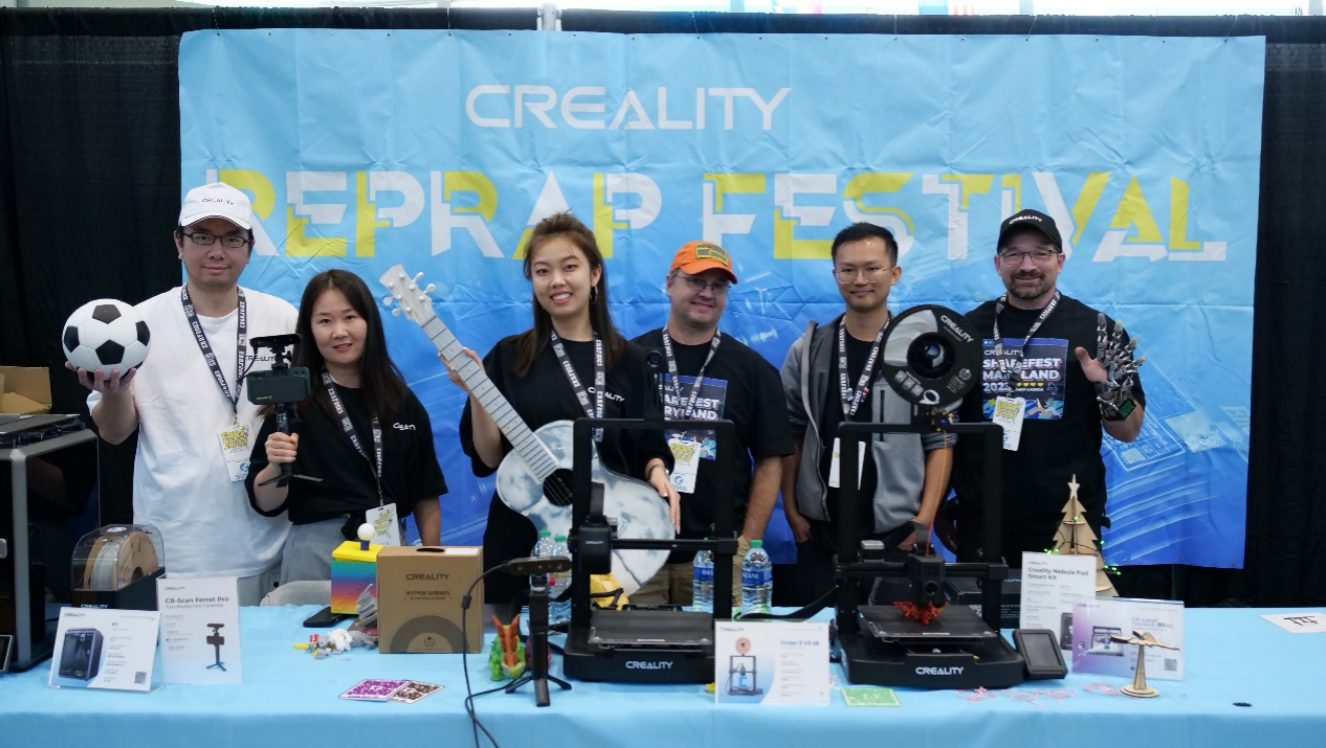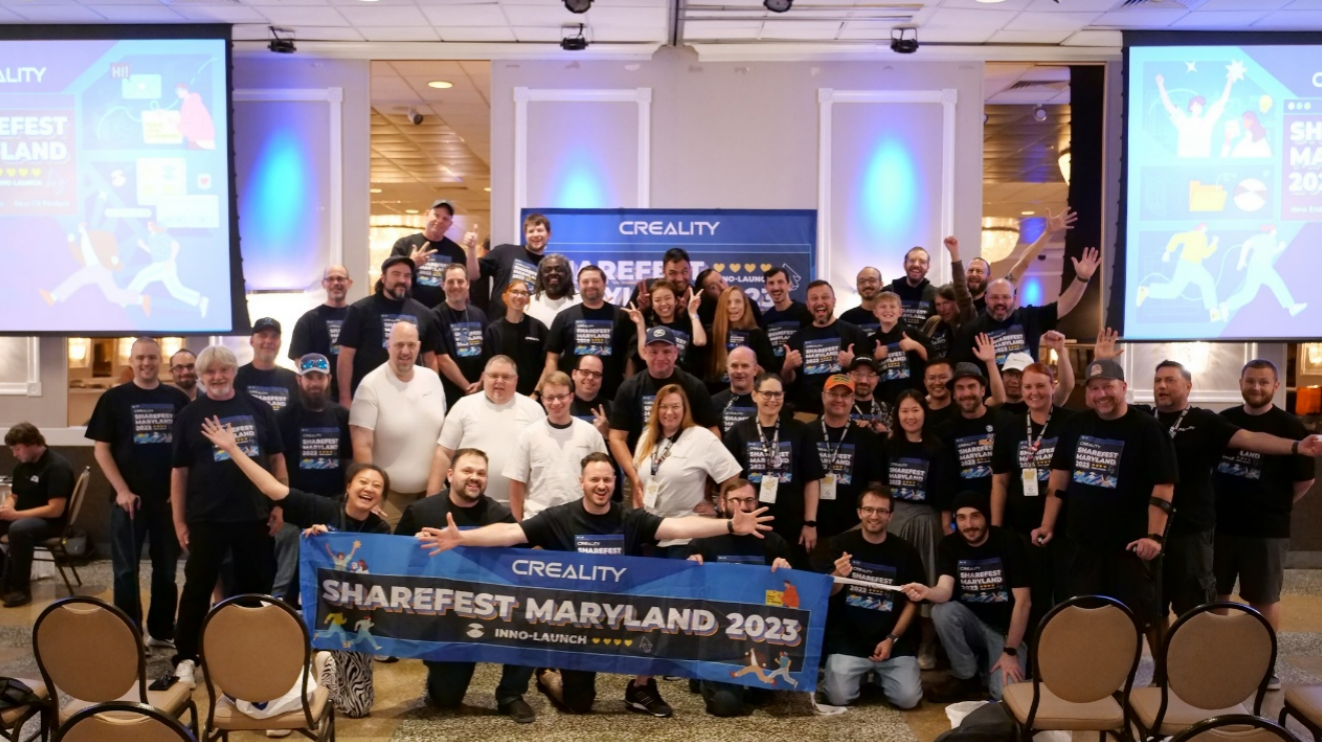 The event witnessed the exciting showcasing of new products, with the spotlight shining on the Ender-3 V3 series and CR-10 SE 3D printers. Additionally, Creality introduced a range of ecosystem products that included engravers, scanners, drying boxes, the Nebula Pad, and high-speed filaments. These offerings catered to the diverse needs and creative aspirations of our devoted users.
Engaging conversations that inspire
Maryland ShareFest 2023 featured insightful roundtable discussions, where industry experts and enthusiasts engaged in stimulating dialogues.
In the realm of prosthetics, Creality showcased its steadfast commitment to leveraging 3D printing technology to make a meaningful impact on the lives of those in need. This has been a vision shared by Ian Davis, a DIY prosthetics innovator who also has been helping other people using his knowledge and experience in engineering, 3D-printing and DIY prosthetics. On this gathering, Ian shared his remarkable journey of innovation and inspiration. Creality, as a long-term partner, provided him with unwavering technical support and resources to further explore the limitless possibilities in this field.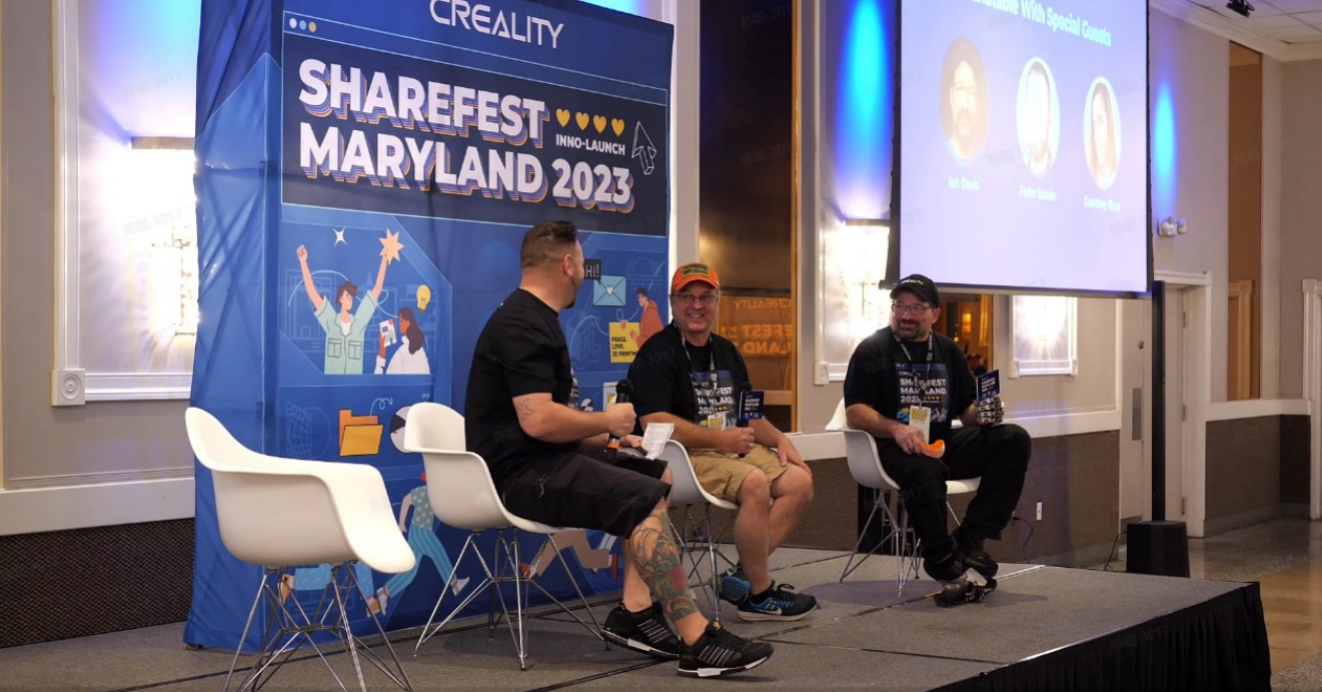 Kevin King, Chief Product Officer of Bionic Innovations Prosthetics and Orthotics, a dedicated 3D-printed prosthetics company, has also been invited to the occasion. The company designs and crafts prosthetics for underprivileged individuals, providing them with life-changing devices - often free of charge. In Ian Davis's honor and in a heartwarming gesture of continued support, Creality donated a cutting-edge K1 Max 3D printer to Bionic Innovations. The benefaction is intended to mark the contribution to DIY prosthetics from the two for the good of those in need and performed in the hope of people coming together for the same, great cause. On behalf of Bionic Innovations, Kevin King graciously accepted the donation, further cementing the spirit of collaboration and innovation that ShareFest embodies.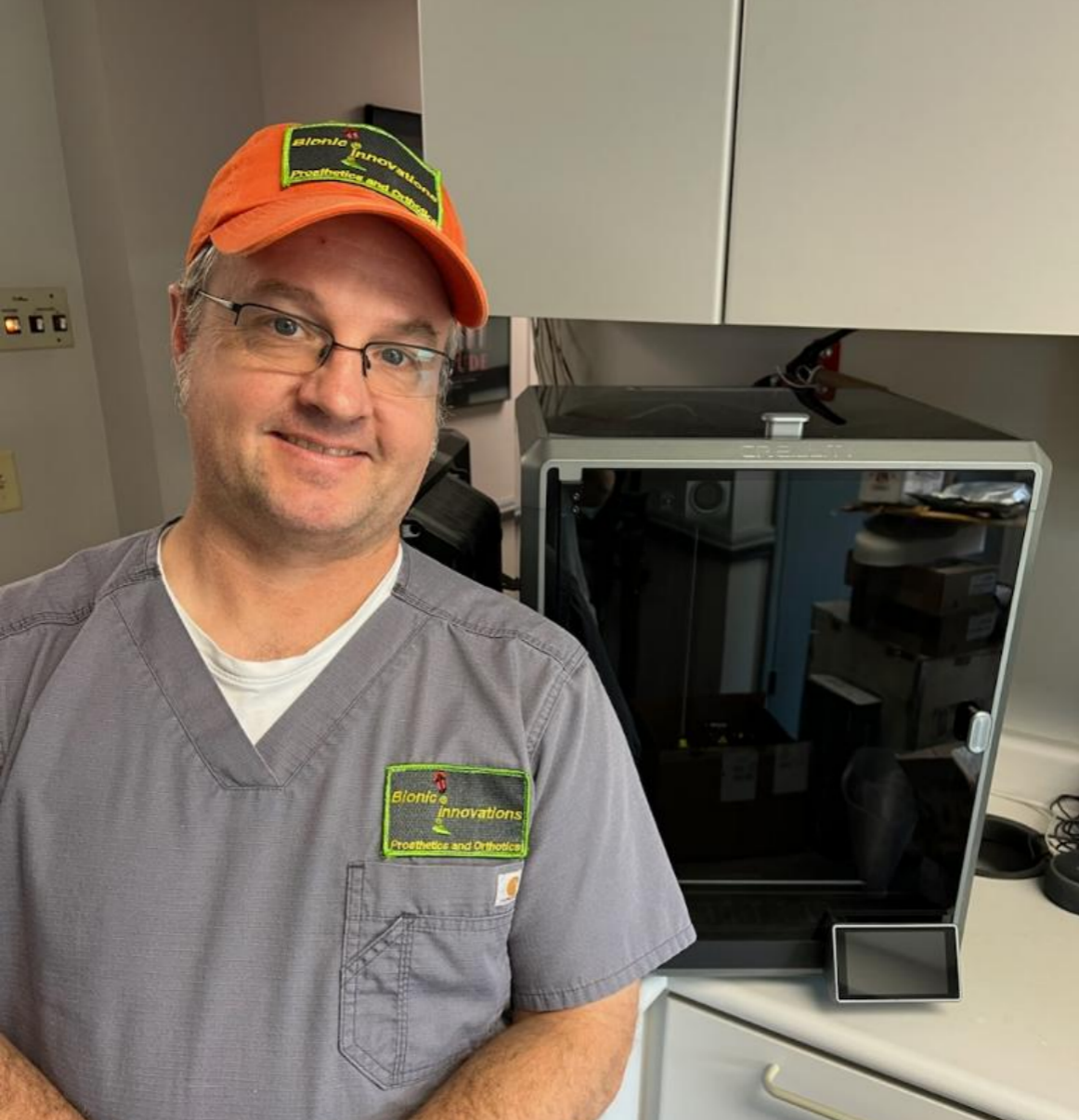 The discussion on modding delved into the growing influence of the open-source community within the 3D printing landscape. Creality proudly highlighted its commitment to nurturing creativity in this domain, exemplified by the exciting K1 series open-source initiative which had been met with enthusiastic response from creative minds.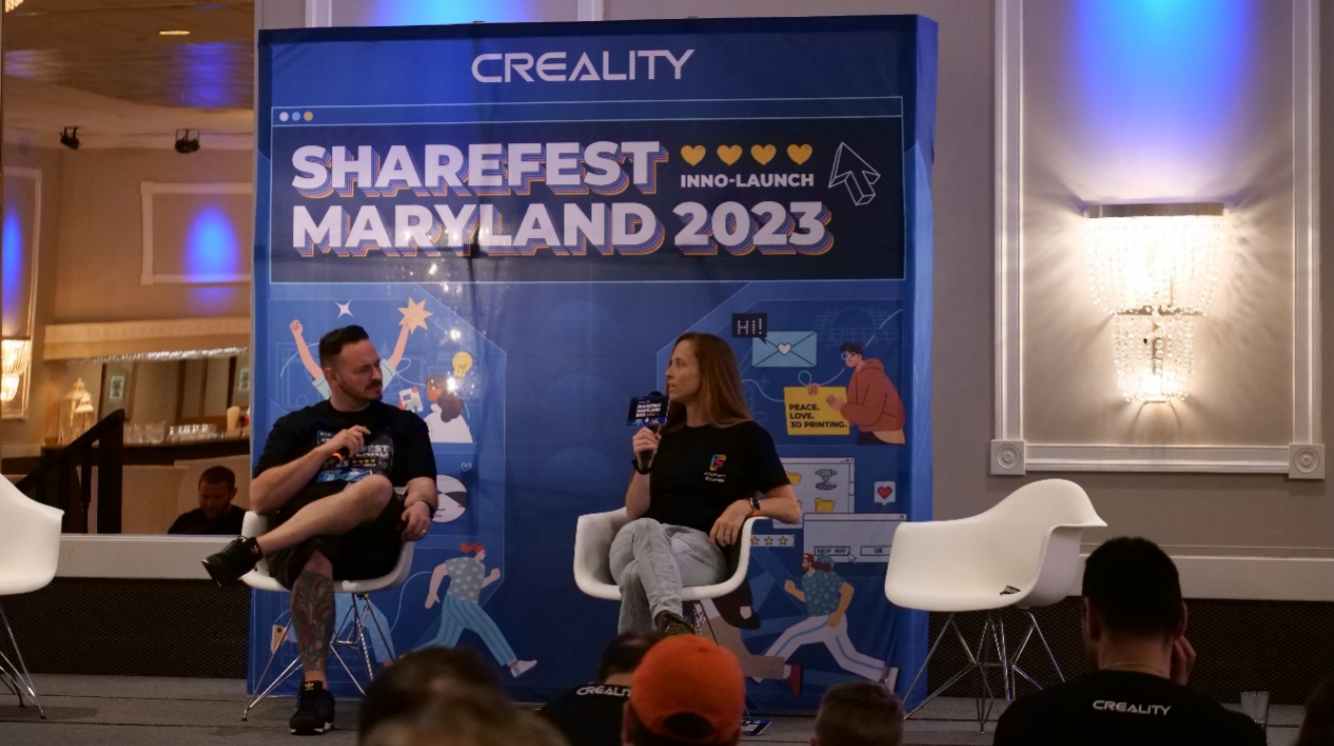 Furthermore, the event celebrated the invaluable contributions of women in the 3D printing industry. One of the users Courtney Blum, a prominent female figure in the field running a popular YouTube channel "FilamentStories", provided thought-provoking insights into how women are reshaping and redefining the 3D printing industry through innovation and unique perspectives.
Fostering creativity and recognition
The 3D Model Competition, a cherished tradition of ShareFest, continued to capture the imagination of participants. Even those unable to attend in person seized the opportunity to submit their awe-inspiring creations. During the game session, users presented their trove or trump models, among which attendees cast their votes for their favorites. The triumphant winners were bestowed with exciting prizes, serving as a testament to Creality's commitment to inspiring and nurturing creativity among makers through our innovative products.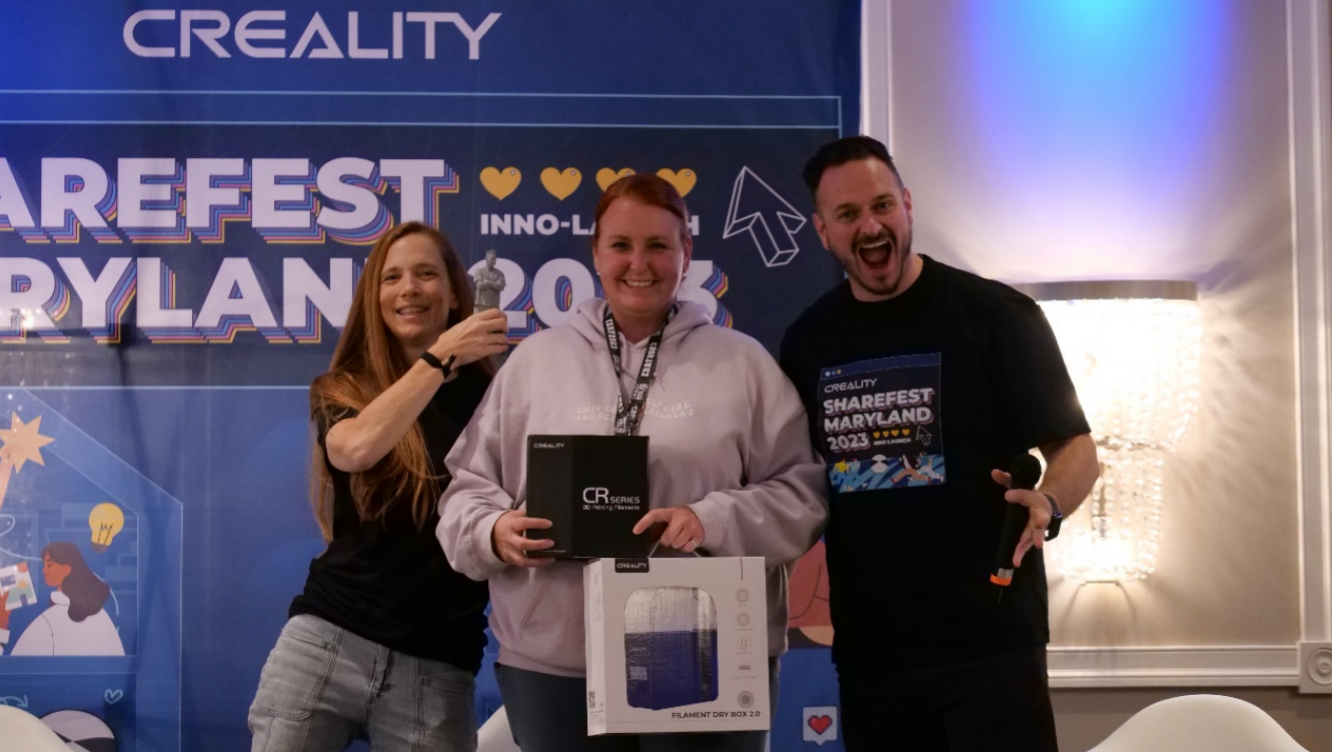 Connecting hearts and minds
The ShareFest experience extended beyond technology and innovation, as a heartwarming group photo session was organized to perpetuate the warmth of ShareFest Maryland. Additionally, Creality treated attendees to a delectable dinner, where conversations flowed as freely as the ideas. Guests had the chance to connect with each other, share their 3D printing experiences, and weave stories of inspiration and collaboration. This fosters a growing Creality maker community that thrives on shared knowledge, experience, and innovation.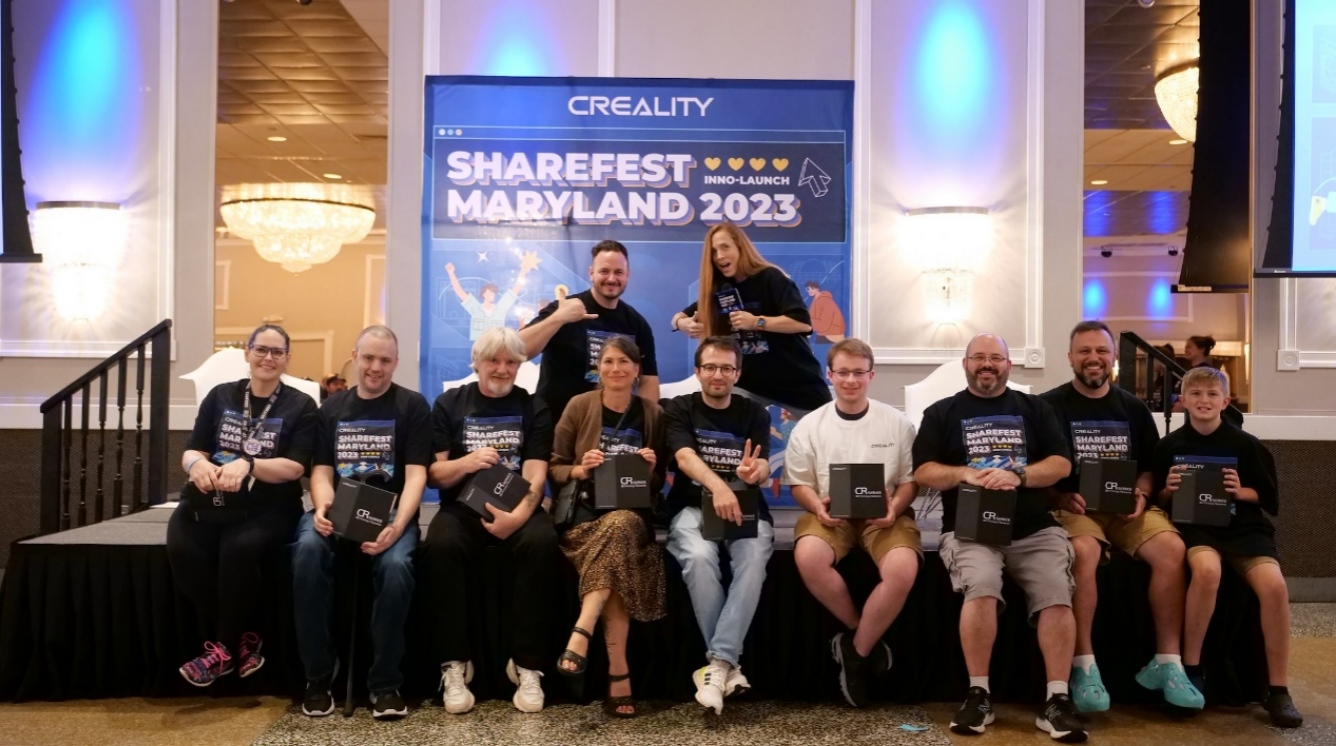 Ian Davis, a beneficiary of 3d-printed prosthetics and DIY prosthetics innovator, shared his feelings for this ShareFest Maryland: "I'm grateful for Creality's commitment to 3D printing and the impact it has on people like me. I've been able to take my passion for engineering, 3D printing, and DIY prosthetics and use it to make a difference in people's lives. Creality's support has been invaluable in my journey, and I'm honored to present a machine together with Creality to Bionic Innovations, which has also been contributing to DIY prosthetics and community support."
Steven Han, Brand Marketing Director of Creality, spoke of the first ShareFest Maryland with pride: "At Creality, we are humbled by the success of ShareFest Maryland 2023 and the positive impact it has had on the 3D printing community. Our dedication to innovation and collaboration is exemplified by the stories shared at this event. Particularly, Ian Davis's journey is a testament to the transformative power of 3D printing technology. We are proud to support individuals like Ian and organizations like Bionic Innovations that are making a difference in the lives of disadvantaged individuals – by way of 3D printing. We look forward to continuing our journey with the global 3D printing community and pushing the boundaries of what is possible in 3D printing."