Shenzhen, China, March 1 – Creality, a global pioneer in 3d printing, has been providing support to assist those impacted by the recent earthquakes in Türkiye.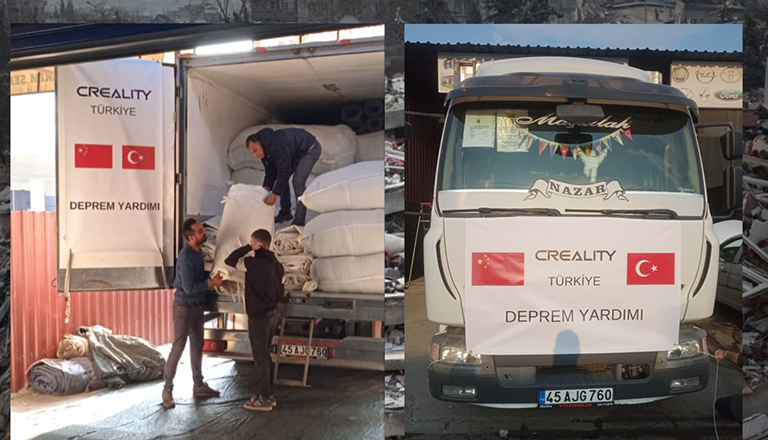 Together with Genix, a leading printing solutions provider and Creality's major distributor in Türkiye, Creality has donated about 1500 emergency supply kits including tents and blankets to the affected regions through Ahbap Association, a non-governmental organization founded by the Turkish musician and philanthropist Haluk Levent. All the supplies were sent to Aahbap's community recovery warehouse in Osmaniye in southern Türkiye by February 26, and will be distributed to the surrounding villages as requested by Turkish Disaster and Emergency Management Authority (AFAD).
"It is heartbreaking to see so many people affected by the devastating earthquakes, and our deepest condolences go to the families who have lost their loved ones," said Ao Danjun, CEO of Creality. "As a global company, we are responsible for providing timely aid to people in need. Our local colleagues and business partners are sparing no effort in allocating supplies and helping victims, and we will continue to stand with the local people during this challenging time."
Creality has been proactive in charitable contributions for years and established the Creality Charity Fund in 2020. In early 2020, Creality quickly responded to the covid-19 outbreak and donated 300,000 RMB (43,200 USD) to Wuhan Charity Federatiaon for epidemic prevention and control, and procured 50,000 KN95 masks worth 500,000 RMB and shipped them to the United States, Germany, France, Italy, Spain and other countries.
Watch the short video now: https://www.youtube.com/shorts/jV77fhkB0XI