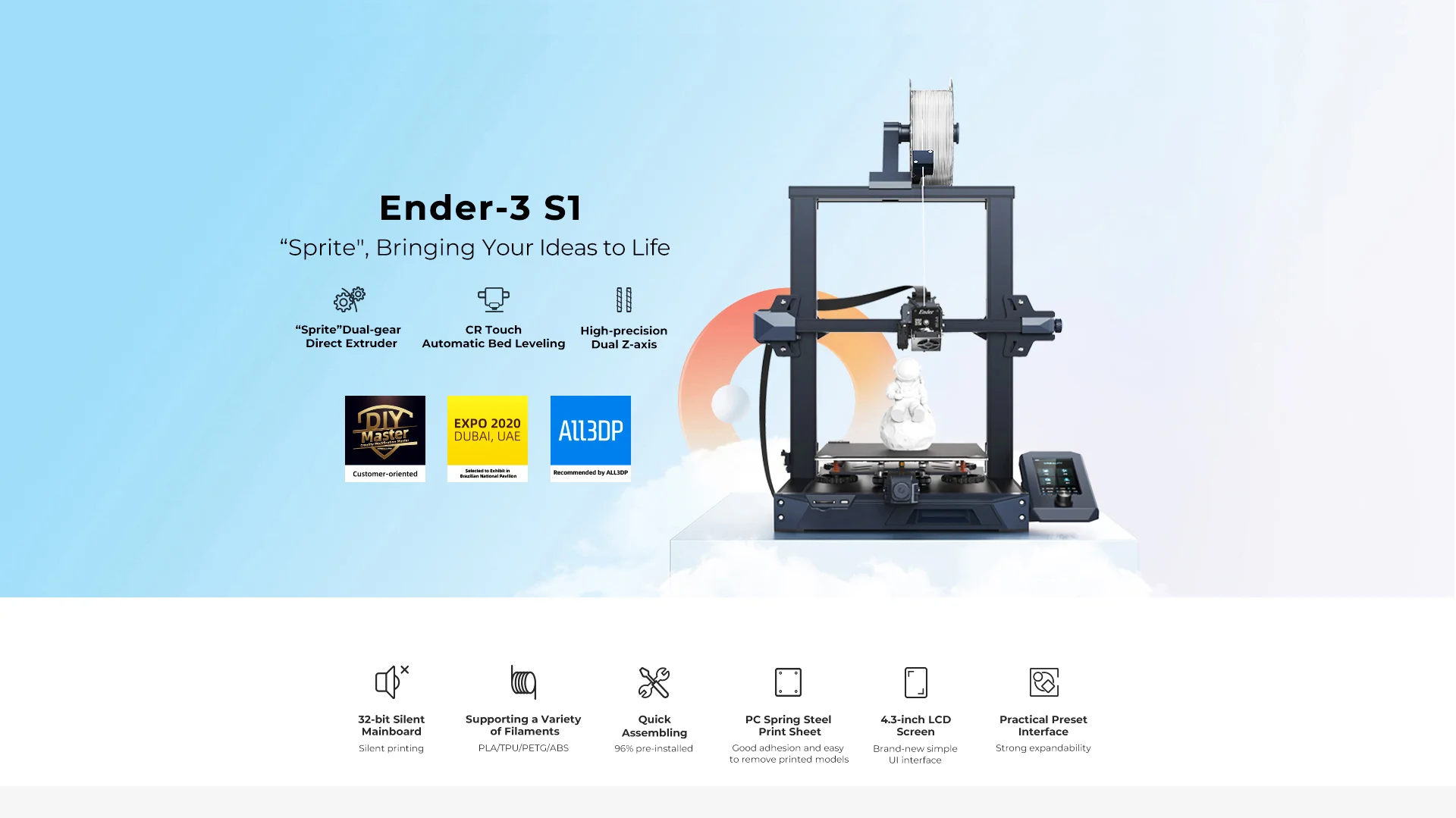 "Sprite" Dual-gear Direct Extruder Compatible with Various Flexible Filaments
Our brand-new self-developed "Sprite"dual-gear direct extruder features two chrome steel gears that are engaged at a 1:3.5 gear ratio. With a pushing force of up to 80N, the extruder realizes smooth feeding and discharging of filaments without slipping and works extremely well in printing flexible filaments such as TPU.
Compared with other direct extruders, the"Sprite" is lighter and features less inertia and more precise positioning.
CR Touch Automatic Bed Leveling Device Make Leveling Worry-free
Our self-developed CR Touch 16-point automatic bed leveling technology saves you the trouble of manual leveling. Simple and easy to use, the intelligent leveling system can automatically compensate for the printing height of different points of the heatbed.
High-precision Dual Z-Axis
Higher Printing Precision
With a Z-axis dual-screw+Z-axis dual-motor design, Ender-3 S1 works smoother and more synchronously to lower the possibility of lines and ridges on the sides of your print, thus improving the printing quality.
Removable PC Spring
Steel Print Sheet
Easy to Remove Printed Models
The brand-new 32-bit silent mainboard runs at low decibel levels, greatly reducing noise to let you enjoy your printing.
Low-noise Operating
Allows You to Enjoy Printing
The innovative printing platform is a combination of a PC coating, a spring steel sheet and a magnetic sticker, which sticks to the surface immediately when released.
The PC coating brings good adhesion and printed models can easily be removed by bending the print sheet.
The Screen Allows you to Operate at Ease
The 4.3-inch knob LCD screen features a brand-new UI interfaceto facilitate simple interaction that allows you to experience operation by knob. It automatically dims out when inactive for 5 minutes, saving energy and protecting the environment.
Double Protection
No Fear of Risks
Ender-3 S1 features the function of detecting filament runout or breakage/power loss and resume printing after recovery. By accurately recording the printing data at the time of power outage/filament runout or breakage, it helps to avoid the waste of filaments and time caused by accidents.
Simple 6-Step Assembling
96% of the printer body is pre-installed, making assembling extremely convenient with only 6 steps and the maintenance of the printer is simple and easy.
Creative Potential
With preset interfaces for laser engraving and LED light Ender-3 S1 brings you more possibilities.
Knob Type Belt Tensioner
The belt tensioner is an easy-to-use tool that helps prevent problems such as layer shifting caused by inadequate tightness.
Compatible with Various Filaments Unleash Your Imagination
Compatible with more filaments, it can print PLA, TPU, PETG, ABS, etc, enabling you to release your creativity.
Ender-3 S1 3D Printer
CR Touch Automatic Bed Leveling
"Sprite"Dual-gear Direct Extruder
High-Precision Dual Z-axis
Buy Now