Why Creality LD-002R Can Attract you?

The Creality LD-002R 3d printer is a modification based on the Creality LD-002 3D Printer. It is a humanized design with many attractive functions.
Whether you are a novice or a professional, I believe that when you contact Creality LD-002R 3d printer, you will definitely like it. It not only has a high-end appearance, but also is easy to operate, and the printed model is also very fine.

The 2K solid-state display system has a resolution of up to 2560 * 1440 pixels, which can achieve the ultra-high printing accuracy of 0.02-0.05mm.
Moreover, the printed model has a smooth and delicate surface, showing the beauty of details. When printing, every single spot is only 26.1μ㎡, and its precision is comparable to the industrial-grade printers.

Creality LD-002R 3d printer uses an LCD screen to mask an image of a layer over a UV light source with a 405nm wavelength. LCD light bulbs in parallel matrix provide uniform light with light evenness up to 90%.
Reflective cup improves light concentration and even illumination. A stable light source decides a higher print success rate. Like the bright eyes, more accurate for something.

Ball linear rail, with relatively stable performance, can promote the accuracy of printing. Its high-precision and stable balance sliding can promote the stability of the z-axis, and also can effectively eliminate the wave, make the model surface more smooth, and have a fine and elaborate model.
Its printing height can be 160mm, which is conducive to the printing of large-scale models.

Creality LD-002R 3d printer has an air filtering system. You can print freely.
About the air filtering system, it has two fans, Two fans form a mirror image, which can not only disperse the smell of resin for the printer, but also speed up the heat dissipation, and then use activated carbon for secondary filtration, so the smell volatilized to the room is very little, so that you can stay in the room to observe the printing process.
In this air filtering system, there is a hidden cooling design to help the printer cool down and effectively reduce the resin smell.
'One potentially standout feature that has a huge question mark over its head is the possibility of wireless printing via WiFi. It's not an advertised feature of the Creality LD-002R 3d printer but remains a toggleable option in the networking section of the printer's menu. Possibly a hangover from using an unaltered state of ChiTuBox that supports WiFi, another possibility is that it is an optional add-on – something that would align with Creality's recent drive to offer myriad official upgrades and add-ons for its printers.' from ALL 3DP, which is a fair comment.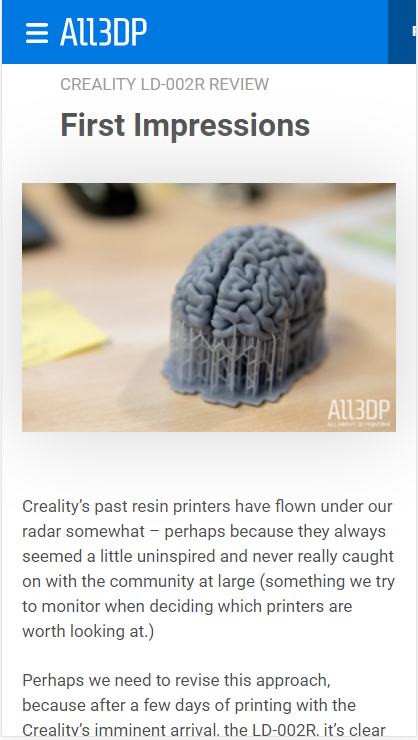 We also received customer review for Creality LD-002R 3D Printer,