What a Great Function by Creality Ender-6!
The Creality Ender-6 3D printer returns with a comprehensive upgrade!
Creality 3D printers are permeating into people's daily life, while the 3D printer is changing and upgrading as well to meet the requirements of customers.
According to the manufacturer, the Creality Ender-6 3D printer has mainly upgraded in appearance, printing speed, high stability, etc.
Without further ado, Let's enter the theme of this article by the following video.
Creality Ender 6 Core-XY 3D Printer- full version 2020:
1. Fast printing speed: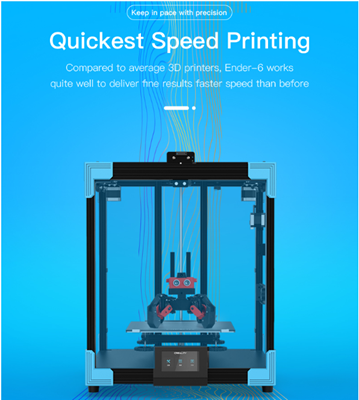 The Core-XY structure is used in the smart cube structure.
There is a moveable printing bed from top to bottom at Core-XY structure, using two stepper motors to drive moving on the XY axis.
The print head will be moved with the special direction of the motor rotates, thereby reducing shaking and the weight born during the printing.
Thus, the printing works at a higher speed without compromising quality.
2. Core-XY Structure: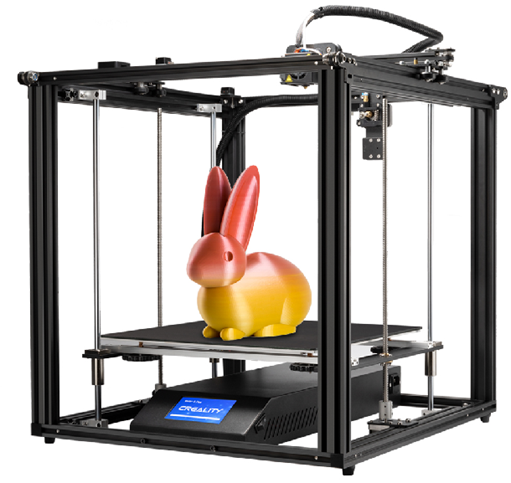 What is the Core-XY structure?
There are four profile frames, which make a cube similar to the shape of the whole machine.
What is the function of installing the Core-XY structure?
1. Printing stable: there are four profile frames, which make one model of cubic machine, improving the stability of printing.
2. Large printing build volume: Core-XY has a relatively compact structure that can reach relativity large printing size under the same build volume.
3. The output torque is large: The two motors work together to make the torque is large
3. About the architecture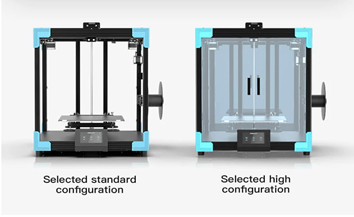 The Creality Ender-6 has two versions for customers. One is an open architecture style. Another one is a closed architecture style with acrylic plates optional.
The acrylic plates will be added to the four profiles. Ender-6 has a great achievement in keeping the temperature in the printing area that expands the choice of filaments from PLA to ABS and TPU.
Transparent panel guarantees 360° real-time monitoring of the printing, ensures security and quality during the printing processing.
4. About printing environment: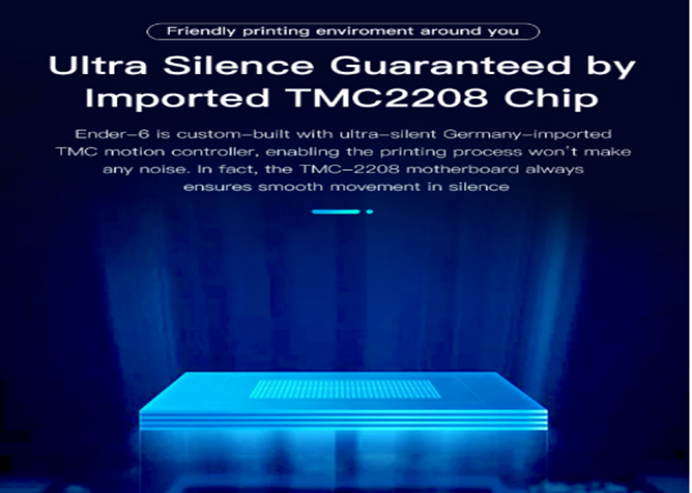 The noise is a kind of voice that will make people agitated and have a bad impact on people's health.
Using the Creality custom-built silent mainboard can reduce the noise. Besides, the precise motion control and the quite quality printing experience can be guaranteed by the ultra-silent Germany-imported TMC motor controller.
Hence, let us do some efforts for reducing noise pollution in people's daily work environment by choosing the low noise Ender-6 3D printer.
5. About screen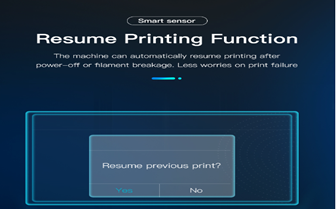 4.3inch full-color touch screen and new user page can offer various languages with easy and direct guidance.
Users can get any needed information including printing processing, function overview, parameter setting.
In addition, customers can operate resume printing function and filament detector by the 4.3inch full-color touch screen, hence increasing the work continuity and efficiency.
It is hard not to be attracted by the beautiful appearance when the perfect and whole new Creality Ender-6 3D printer is in front of us!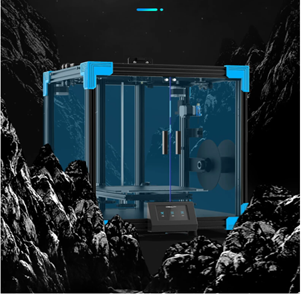 6. Appearance
Wow, what a beautiful color, compared with those Creality 3D printer series in black.
Blue gives a strong visual impact; it is very popular among 3D printer hobbyists.
If you would like to get the more detailed and latest information about Creality Ender-6, please visit our Creality official website!!
Creality online store: https://www.creality3dofficial.com/
How to install it after I have known the Ender-6 3D printer?
Don't be worried to install any products from Creality, because we have a useful handbook guide and detailed video for the customer to install it.
Here is the video from YouTube about how to install the Creality Ender-6 3D printer.
(https://youtu.be/WZ8Ls0lDLOo) Always remember to subscribe to this YouTube channel as it is Creality's official channel for product operation and troubleshooting guides.
Want to become Creality dealers or distributors? Just email to info@creality.com, professional 3d printer solution will be provided to you soon by our sales managers, who have years of experience in 3d printer industry.
Thank you for reading!!