3D printing, as cutting-edge and disruptive technology, has a wide range of unexpected applications.
Nowadays, many countries have started to give great support to the 3D printing industry from the aspects of funds and policy, and even establish it as a national development strategy.
Under the joint advocacy and vigorous promotion, the research and development of 3D printing technology have been constantly accelerated and won wider public attention.
Julius Maada Bio, the president of Sierra Leone, addressed a speech on the topic of "The application of 3D printing technology" as a strong advocate of science, technology, and governance innovation when he recently attended the Fourth industrial revolution conference in Uganda.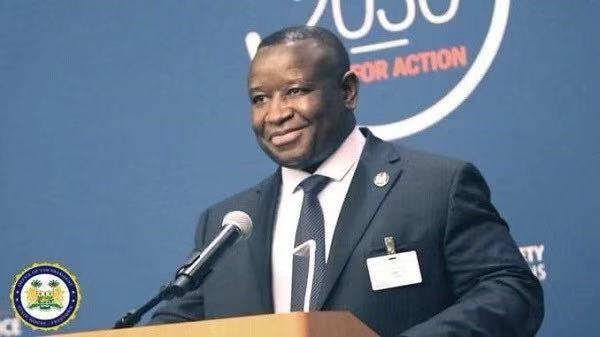 Ender-3 Pro Supports New National Policy Development of Sierra Leone
During the lunchtime of the State Council, government officials had an unthorough discussion on education due to a lack of adequate visual data.
Bio suddenly hit upon how to transform the current complicated data into effective visual data so as to know about the practical problems that the Ministry of Education is facing.


The Development of Science Technology and Innovation (DSTI) attached to the State Council immediately got down to this project.
The distribution of the unenrolled school-aged girls was calculated and clearly demonstrated on a 3D map model with detailed data that was produced by a 3D printer.
Via this 3D printed model, officials could grasp the data of different cities from various angles, helping them learn about the potential difficulties and challenges.
Bio also used the 3D printer to make a model demonstrate the distance between home and school. With this print, officials discussed how public transportation should be distributed on a national scale, and where to site the location of new schools.


3D printed models played an important role in other data-driven conversations, which greatly improved the efficiency of discussion making. Right on the desk in Bio's office, there was a desktop 3D printer Ender-3 Pro which was independently developed by Shenzhen Creality 3D.
Issued in March 2018, Ender-3 Pro has exceeded the shipment of 200,000 abroad.
Ender-3 Pro has become another global bestseller after CR-10 (more than 10 million videos on Youtube, unique pageviews reached 100,000), gathered numerous users at home and board, also ranked top among 3D printers on Google search engine.
Bio said it was their first 3D printer. In order to keep pace with the times, they would purchase more 3D printers in the future, and utilize them to make more prints for the promotion of policy-making and national development.
As the representative of "Internet + Smart Manufacturing", 3D printing has been widely applied in aerospace, medical, clothing, education, industrial design, culture and art, military, film and television, home appliances, light industry, archaeology, sculpture, jewelry.
3D printing can produce almost everything, from parts and components to automotive and airplane, from animation to architecture, from fingerprints to heart models, etc.


According to relevant data analysis, under the background of Industry 4.0 and the strong support of governments, it is expected that the 3D printing industry will be in a period of rapid growth in the next decade.
As a strong promoter of the global 3D printing industry, China will invest more energy in 3D printing professional talent training, industry standard-setting, and cutting-edge technology research and development.