Creality 3DPrintMill is Live on Kickstarter!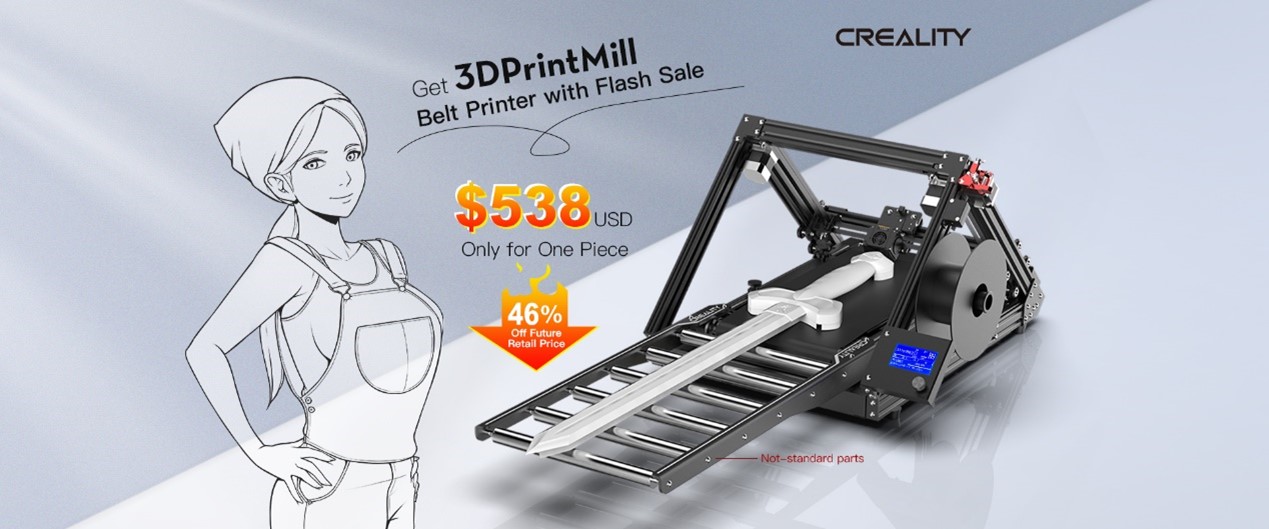 On Nov 19th, Creality held an official launch ceremony for Creality 3DPrintMill debuting Kickstarter at 12:00 A.M. in the morning (GMT +8). At the ceremony, the company clearly explained why Creality 3DPrintMill debuted on Kickstarter and detailed product features of 3DPrintMill.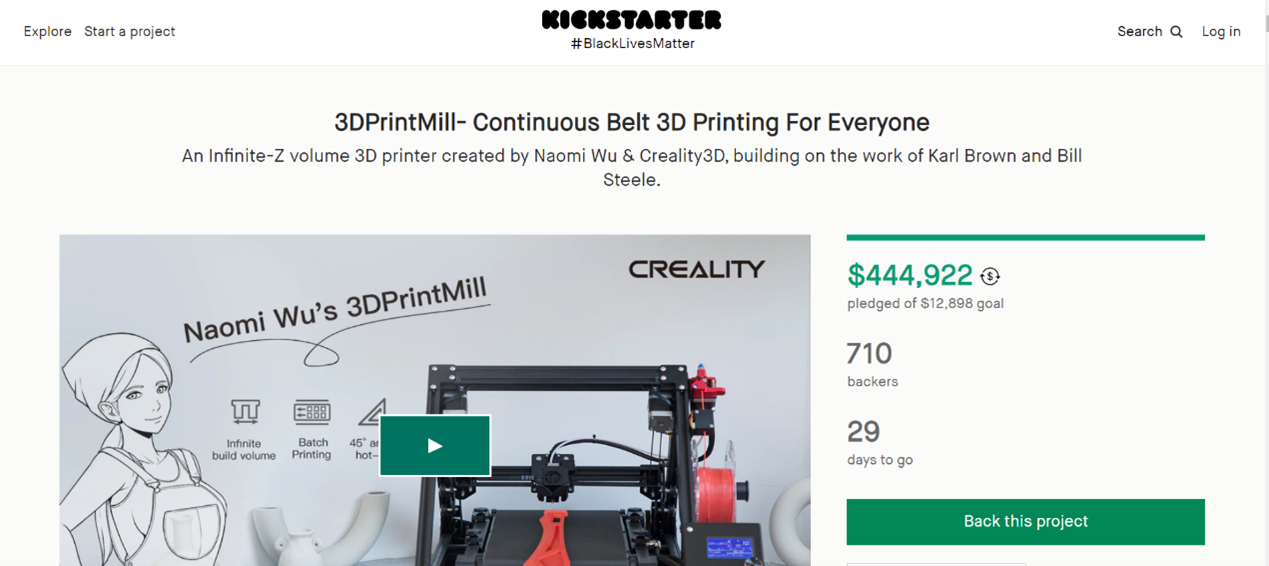 3DPrintMill debuted Kickstarter at 12 am, NOV 19th (GMT +8), and has received 710 backers and crowd-funding fund $444,922 within one hour! The lowest price that users can get so far is the early bird price at $588.
Thank you for supporting us on the Kickstarter platform, we will continue to provide quality products for you!
What makes this event and this new Creality 3D printer special? Let's probe into details!
Why Creality 3DPrintMill Debuts Kickstarter?

Bill Steele, who first demonstrated Infinite-Z FDM and DLP printers, and Karl Brown who created the first practical, Open Source kit so consumers could build their own Infinite-Z printer. Both Karl and Bill have given the project their blessing- and indeed, without them, it would never have been possible.
When Naomi Wu- the project head for the 3DPrintMill, decided to create and market an Infinite-Z belt printer that could be mass manufactured and affordable to everyone, she knew she could not do it alone.
Bringing the 3DPrintMill to life would need the resources of a full engineering team and a company with substantial 3D printer manufacturing experience.
So a deal was struck, Creality would invest the R&D resources necessary to make the 3DPrintMill real, and as soon as that expense was recouped, the entire product would be fully Open Sourced for the benefit of the community.
When the 3DPrintMill reaches 5 million USD in crowdfunding, the whole machine- CAD files, BOM, firmware, schematics, will be fully Open Sourced.
Anyone in any country can make their own version, iterate and improve on it- leading to vastly accelerated development.
Firstly, the main purpose of the Creality 3DPrintMill debuting on Kickstarter is to give back to the users for long-term support.
During the last 6 years, Creality has acquired worldwide recognition from users all over the world, Creality has gained great achievements in the 3D printer industry.
Giving back is not only to extend gratitude but also to strengthen the close relationship between the company and its users.
Secondly, Because the first Creality Crowd-funding about CR-6 SE 3D printer was held in April 2020, we had 10401 backers and reached HK$ 33,950,877 Crowding-fund.
In order to give back to customers for their long-term support, Creality arranges the second Crowdfunding campaign on the Kickstarter platform. For all customers to get our 3D printer at the lowest price.
Third, With the development of society, more and more people want to experience technology convenience, the most important thing is getting the valuable and useful information from our customers that can meet the customer's requirement timely. Strengthen the close relationship between the company and its users.
Why Creality 3DPrintMill to Be the Choice?
The Infinite-Z axis of 3DPrintMill redefines the print size. Print size 200*170* There is no requirement for model lengths, such as 1.2m sword and 1.5m guitar.
The rolling conveyor belt facilitates mass production. The printed model will eventually roll off the conveyor belt. The user can leave the printer idle until the printing is completed.
Finally, all prints can be retrieved from the collection area. The nylon material belt has better adhesion. After countless tests, the first layer of the model is flat.
Good models come from good slicing software; the Creality R&D team is dedicated to developing the slicing software for 3DPrintMill to make the users have a good printing experience. The special slicing software is suitable for the 3DPrintMill to print an infinite length model or set one model to print continuously.
Here Are Other Features:

1. 32-bit motherboard
2. Filament runout sensor
3. Resume printing function
4. Branded 350W power supply
5. Core-XY structure
6. Triple fans to cool down
7. Manual leveling
To Reward Customers, 3DPrintMill is having the Most Competitive Prices:
Since Thanksgiving Day is around the corner, as long as you bought our CR-6 SE on the Kickstarter platform before, you will get a coupon of 30$ for buying 3DPrintMill.
Regarding shipping, we will cooperate with over 10 precisely-selected forwarders, which can not only shorten the shipping time but also enhance the work efficiency.
Most importantly, all 3DPrintMills will go through a 7Dx24H aging test before shipping for quality guarantee.
Creality has always been adhering to the customer-oriented philosophy and delivering high-quality 3D printers to customers in the spirit of an evangelist.
3DPrintMill crowd-funding pricing:
Special price for a single piece:
1. Flash sale at $538
2. Super early bird at $588
3. Early bird price at $688
4. Kickstarter special price at $738
Special pack price for multi-piece:

5. Twin pack at $1348
6. Triple pack at $1998

One year warranty included
Shipping and Taxes are not included.
Please visiting our Creality Crowd-funding Kickstarter platform to receive the latest information about 3DPrintMill and enjoy the favorable prices.
https://www.kickstarter.com/projects/3dprintmill/creality-infinite-z-axis-build-volume-printer-3dprintmill?ref=3cwfk8