Creality CR-6 SE 3D Printer: Is It The Best 3D Printer Worth Buying?
Right off the bat, the
Creality CR-6 SE 3D Printer
from opening up the box gives you an appearance of professionalism and reliability, something we get out of this staple 3D printing brand.
The equipment is packaged extremely well so you won't have to bother with any kind of concerns during delivery to yourself.
How does low upkeep, high-quality printing, 5 min setup timing, greatly-priced 3D printer noise to you? Seemed pretty good to me too!
Most of the Creality CR-6 SE is pre-assembled so it won't be a lengthy process like you may have seen with the very early Ender-3 to get to printing.
You can pre-order your very own CR-6 SE 3d printer from Creality's Kickstarter.
I've definitely obtained my pledge locked in and I'm super delighted to obtain mine!
I did get in a little late so I'll be obtaining my order for September instead of August, however better late than never ever.
As you can see I'll be obtaining a pleasant 26% off the future list price by selecting the Early Bird Price, however you do have to pay extra for delivering so keep that in mind.
This feels like an occasion that the 3D printing globe has actually never experienced in the past, this Kickstarter has serious momentum as well as has almost 2,500% moneyed as of the upload of this message ($100,000 objective & really moneyed $2,448,000) and over 2,500 comments of individuals discussing and also providing pointers for things to be included into the Creality CR-6 SE Kit.
If you get with the Kickstarter, Creality will supply you the option to get a 32-bit (select this set) or an 8-bit vehicle driver so there's even more worth and also money to be conserved if you can get in early sufficient.
Autodesk Kickstarter Test
Autodesk happens to run a series of tests that give a rating, out of 30 on how precise an FDM printer functions.

It managed to get a score of 26.5 out of 30 points (24/27.5)
Dimensional Accuracy: 4/5

Fine Flow Control: Score of 2.5/5

Fine Negative Features: 5/5

Overhangs: 5/5

Bridging: 5/5

XY Resonance: 2.5/2.5

Z-axis Alignment: Couldn't be measured so any result (out of 2.5)

Specifications

Machine Size: 442 x 462 x 540mm

Build Volume: 235 x 235 x 250mm

Printing Technology: Fused Deposition Modeling (FDM)

Product Weight: 9.5 KG

Layer Thickness: 0.1 – 0.4mm

Filament: PLA, ABS, TPU, PETG

Filament Diameter: 1.75mm

Maximum Heated Bed Temperature: 110°C

Maximum Extruder Temperature: 260°C

Maximum Print Speed: 180 mm/s

File Formats: STL/OBJ/AMF

SD card & Online

Features
4.3in HD Color LCD Touch Screen

Foldable Spool Holder

Auto-Leveling with Force Sensitive Resistor

Bright LED Beside Nozzle

Toolbox Storage Drawer

Adjustable XY Rotary Belt Tensioners

Photoelectric Filament Sensor

New Extruder Locking Design (Flexible Fixator)

Seamless Wiring System

Creality Tempered (Carborundum) Glass Hotbed

Optical End-stops

8-Bit (32-Bit – Kickstarter) Trinamic Drivers

Resume Print Function

Portable Carry Handle

Dual Z-Axis

Unique Caved Heatsink

4.3in HD Color LCD Touch Screen

You have this very receptive, color-rich LCD touchscreen with the Creality CR-6 SE 3d printer which offers you a straightforward experience when running the device.
It's a huge step up from the rotary knobs that a lot of people are made use of to. When printing, the clever, as well as a simplified interface, gives people a smooth experience.

Foldable Spool Holder

The spool holder can be installed on the side of the back of your printer, whatever your preference takes place to be.
It conveniently breaks right into the extrusion itself for a durable printing experience.
The advantage of this is so the weight of the printer is not being positioned on the main maker but in the direction of the side or back. Looks-wise it just looks better and also expert.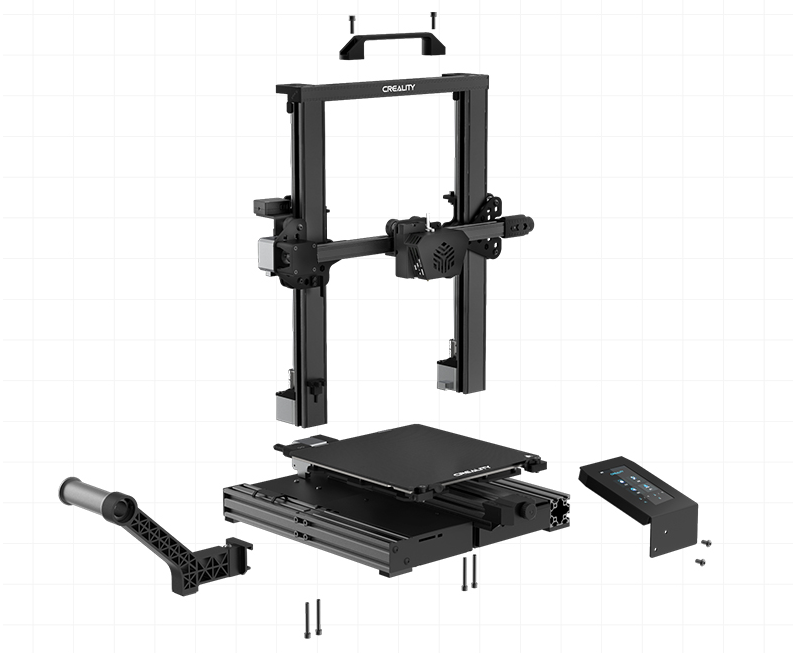 Auto-Leveling with Strain Gauge

The means this 3D printer does its leveling is by touching the surface of the bed, after that based upon the resistance that is picked up, wisely changes itself to be in the ideal setting for 3D printing your components.

This is a function that is changing the game, 3D printing includes only improve with time!
All it takes is just one click of the touchscreen interface, as well as the auto-leveling procedure, will begin.

A 4 × 4 grid is shown on the user interface and also your nozzle will initially establish the center of the bed after that hit each spot until complete.

Bright LED Beside Nozzle

Being able to see your prints under a solid light provides your bed surface area a nearly motion picture result.
You'll quickly have the ability to recognize any concerns or take pride in the excellent quality printing you'll experience with the CR-6 SE 3d printer.

This is where you wanna get your Raspberry Pi's out with a video camera and also get some attractive time lapses of your prints being extruded layer by layer.

Toolbox Storage Drawer

This is a cool feature where you no longer need to rush around to find your devices. We've all existed looking everywhere for one of our devices.
That issue will now be a distant memory with the toolbox storage drawer within the actual printer framework.

Adjustable XY Rotary Belt Tensioners

No demand to readjust your belt with screws like old times, currently it has been made to be a lot easier.
Just rotate the knob on the X or Y axis to tighten or loosen your belts whenever necessary. Maintenance and also higher quality prints obtain that much easier with this feature.

Photoelectric Filament Sensor

As opposed to stressing over your printing performance, you can rest assured that if your filament runs out or it somehow gets broken while printing, the photoelectric filament sensor set up in the CR-6 SE will discover this and also respond by quitting the printer.

This attribute although not used usually, does its task when faced with this trouble. Your printer helps you as opposed to you need to pick up on the smaller sized problems that people often miss over.

As soon as you re-apply your filament and also feed it via, it will return to the procedure so you are right back to where you were before the incident started.

New Extruder Locking Design (Flexible Fixator)

I actually similar to this function when it pertains to feeding filament via your extruder. Not just will it make it much easier to feed filament via for a smooth extrusion, yet it ought to lead to much faster, quieter, and smoother prints on the whole.

It seems like a big step up from the Ender 3 which needed us to press in the stress springs fairly strongly to feed filament via. 3D printing machine growth concentrates on not only the big adjustments and also enhancements, but the smaller sized attachments that make life easier for 3D printer hobbyists.

Wiring System

In some cases, you can experience your bed cables being knocked into or blocked by something due to the moving parts.
With the recently designed smooth wiring system, you will not have to fret about your wires knocking or tearing into something.

The cables that power the extrusion are additionally on the side of the 3D printer, in a similar way out of the way.

Carborundum Glass Hotbed

You just desire hot, excellent, superb printing results, right?
Well, the CR-6 SE 3D Printer features a carborundum glass hotbed system that is flatter than aluminum and also which provides a stellar thermal efficiency that ensures quick heating up, strong bond, and also prints that are very easy to remove.

The glass bed sits on top of your bed surface area and also has an in-built securing mechanism to maintain it in place. It all looks really expert, small, and tidy for a simple and easy 3D printing experience.

Optical End-stops

It's a small optical end-stop that is sensitive and silent. You'll get high precision with precise placing without the mechanical accident that you see in older 3D printers.

Trinamic Drivers

Trinamic drivers have the benefit of ultra-silent printing as a result of its capability to minimize present variation.
The waves displayed are a whole lot smoother and cleaner as a result of this so you'll only just regarding listen to the fans working, which is a huge advantage.

It's still undecided whether the primary release will come with 8-bit or 32-bit Trinamic chauffeurs yet individuals who backed the Kickstarter will get to pick in between either.

Having the current Trinamic motorists suggest you get better voltage control, much faster activities, and speedier printing, all in silence.

3D printers shouldn't be frustrating in the noise they make, which is why we added a Silent Chipset to the Creality CR-6 SE FDM 3d printer.
Its latest Trinamic driver assists to ensure that voltage control, quick motion as well as printing in silence are provided. We know: you'll thank us a lot for that!

Resume Print Function

This is a feature we are starting to see with the majority of modern 3D printers so it's not special to this printer. It's still worth stating because some printers still do not have this feature.

In case of any kind of power failures or a power switch inadvertently being struck, you can count on the CR-6 SE to return to printing from it's last videotaped location ensuring that your print makes it to the goal.

Portable Carry Handle

Having a lug handle with your 3D printer is a really neat addition simply to make points that little bit easier.
It's a very strong, durable deal with that attached to the top of the printer so you can relocate successfully if demand be. When you require so utilize it to your heart's content, you can connect or remove it.

Dual Z-Axis

This eliminated X gantry sagging which quits various other problems like the Z-axis missing layers.
It's certainly an upgrade people have actually desired on their printers so thumbs up for putting this on the Creality CR-6 SE FDM 3d printer.

A twin Z-axis contributes to the stability, leveling of your bed causing far better bonds and also printing performance.

Unique Caved Heatsink

You desire a heatsink that dissipates warm well and this set is developed uniquely to do exactly that. It does it so well that you can barely feel any type of warmth on the heatsink itself.

Benefits
Ultra-silent printing

Intuitive user-experience

Several upgrades from the Ender 3 which make things easier to operate

Easy to use for beginners, giving out high performance and much enjoyment

Stylish design and structure is useful and looks very aesthetically pleasing

All-round safety with several protections installed within

High precision printing

5 minutes to heat up

The all-metal body gives stability and durability

Easy to assemble and maintain

The power supply is integrated underneath the build-plate, unlike the Creality Ender-3.



Conclusion
As you can see at the beginning of this post, I've gotten one for myself and am expecting the day I unbox this fantastic device with each other as well as reach printing!
I'm sure you will not be sorry for going with the Creality CR-6 SE either for your initial purchase or to contribute to a fantastic collection of 3D printers.

I'm expecting several thousand hrs of printing with this printer and also for the rate and performance we've already seen in many testimonial videos, along with the considerable feature list, this is one that I recognize everyone will certainly enjoy with.