Resin-based 3D printers utilizing stereolithography(SLA) and also particularly digital light handling (DLP) are getting extra common. We believe that every person who likes the 3D printer wishes to experience a resin printer. The resin printer with high accuracy makes people interested. Like Creality LD-002R with high accuracy materializes the charm of details. Commercial 3D printer, LD-002R has also accomplished the high sales since listing. However, as we all know, the resin printer has a much higher price than the FDM printer. People are much more willing to choose the FDM printer. We can know that the FDM printer has high sales in the 3D printing industry. So what time do the people move to a resin 3D printer? Maybe this article will give people an answer.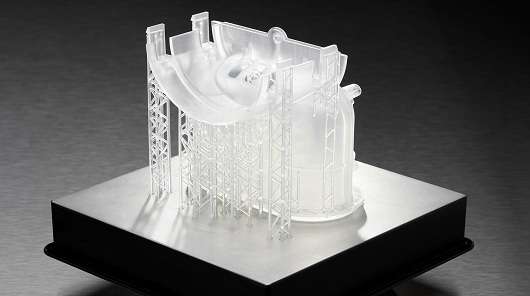 Resin prints can look great, so when does it make sense to transfer to among these cheap resin printers? To understand that, take into consideration the following things:

1. The printing process and outcome of resin printers is not the same as for filament-based printers. Design considerations, pre-processing, and also post-processing are extremely various.

2. Resin printing has a different process, with consumables as well as surprise prices past the cost of resin refills.

Things might not be rather where fused deposition modeling (FDM) printers were just a few short years ago when we were extremely satisfied with the high quality of printer one could get for around $200, but it is unquestionably even more obtainable than ever before. Take a look at exactly how to notify a decision regarding whether to start.

1. The Right Paint for the Job

FDM printers deposit molten plastic with a hot nozzle, while SLA/DLP printers use an ultraviolet source of light to cure fluid UV resin right into a strong. Both build three-dimensional things one layer each time, constantly building the following layer on the foundation of the previous layer. Thus far so exact same, however in practice, they have extremely various operations and generate various outcomes, and are efficient various things. This means that when it comes to good design, what's intuitive for filament-based printers doesn't necessarily carry over. For instance, when 3D printing resin:

Small print size
Contrasted to FDM printers, build platforms for resin may seem relatively little. The more economical SLA printers have build platforms that are about the size of a cell phone screen. Which, as it so happens, is exactly where their LCDs are coming from (with the enhancement of a UV backlight to cure the resin).

The Model is Under Anxiety In Between Each Layer
A "peel" process draws the version off of the build surface area after every layer, as well as the model must withstand this. Each new layer needs to be on a strong foundation and the best way to make sure a good structure is with supports. A model alignment that offers a marginal cross-section (and consequently minimal location per layer) will reduce peel forces.

Rafts and Multiple Supports are the Norms
With FDM printing supports are typically preventable, but not so with resin. Supports give general framework and also the strength to the model as it undergoes pressures that FDM prints do not need to stress over. Rafts and supports are the norms, not the exemption.

Practically No Resistance for Overhangs and Bridging
Compared to FDM printers, resin printing will certainly appear as though it has basically no resistance for overhangs. With FDM, an in need of support overhang might cause a droopy edge or poor surface top quality, however with resin printing that unsupported little bit is most likely to break or drift away (or stay stuck to the build surface), contaminating the resin and hindering the print. A component orientation that makes layer adjustments as gradual as possible will certainly lessen the pitch of overhangs, and therefore decrease the demand for supports.

Resin Prints Require Extra Considerable Post-processing
Prints have to be rinsed devoid of uncured material by washing in isopropyl alcohol and also permitted to dry. Afterwards, they may potentially call for exposure to UV for additional treating (more on all that in a moment.)

Be Mindful of Cups and Islands When Orienting Prints
Cups are hollow parts of a model that can create a suction pressure versus the build surface area during the peeling process. This suction can weaken or misshape in-progress prints. Mugs are prevented by making certain water drainage holes or other gaps exist to damage any possible suction. Islands are parts of a design that begin different from each various other but join up together later on in the print. With resin printing, it's best to avoid them, especially if they are thin or long, or if the component has exact dimensional needs.

Manage Resin with Handwear Covers
All operations including uncured material need to be made with gloves (as well as preferably eye protection.) If resin hops on skin, wash it off without delay with soap and also water.

The majority of pre-print design tweaking will primarily consist of discovering an optimal design orientation that balances the need for supports with the wish to decrease the post-processing worries caused by a huge woodland of supports.

2. How is the Workflow Different From FDM?

Below are the basic steps entailed between IMPORT MODEL and RECEIVE PRINT that highlight the differences filament-based as well as resin printers:

Pre-Processing:

1. Select a model orientation that provides a great balance between a manageable number of supports, as well as supplying sufficient structure to stand up to peeling pressures.

2. Stay clear of mugs, overhangs, unsupported bridges, as well as islands.

3. Attempt to have details and also presentation surface areas on the opposite face of supports as long as possible.

Printer Setup:

1. Set up the build platform and build a tank. If changing resin kinds, ensure both have actually been cleansed first.

2. Pour in the resin. Avoid revealing the material to light. Wear gloves and eye security, as well as adhere to all security precautions (which usually boil down to "don't get it on your skin, and if you do, wash it off right away.").

3. Avoid mixing material kinds, which can have different residential properties and also direct exposure time needs.

Post-Printing:

1. After printing, the component will certainly look like a tough plastic point dripping with syrupy resin. Rinse the uncured resin away by cleaning the component in isopropyl alcohol, and also enable the component to dry.

2. Some resins call for additional post-print curing. This can be performed with a Do It Yourself cure box or by leaving the component in sunlight.

3. Eliminate supports with flush cutters (or by snapping them off if the surface coating isn't vital) then wage various other post-processing like fining sand or painting. Taking care of supports-- specifically in fragile areas-- is a big sufficient issue that I made a tool to make eliminating them less complicated.

As we all know, for the resin printer, we will take into consideration two various other factors related to the products and also basic process: ventilation and temperature. ventilation benefits the printing and handling location, because some uncured resins have a popular, acrid sort of plastic odor to them. The temperature has a result of the treatment time of resins. The cooler the resin, the slower it remedies. Printers without temperature-controlled build storage tanks (i.e. every one of the affordable ones) will take advantage of a work area that is kept at a steady space temperature for the most constant results.

3. When Resin Printing Makes Sense

On a cost-effective resin printer from your favored retailer absolutely makes good sense if you prepare to accept or deal with each of the following:.

1. Build volume will certainly restrict you to little things.

2. Prep, maintenance, and handling can be messy as well as calls for handwear covers. Ventilation is good due to the smell of some resins, and also the requirement to wash finished prints in alcohol.

3. Consumables include more than the resin as well as alcohol for part cleaning. The build surface of the storage tank has to likewise be changed regularly. For hobbyist printers, this is a slim plastic film like the skin of a drum.

4. The arrangement and clean-up procedure for resin should be done no matter the job size, so it's much more efficient to do prints in batches instead of one-offs that are rare. Resin additionally has a limited service life, so resin being in a developed tank needs to be made use of faster as opposed to later.

5. There is a greater post-processing burden in the form of part cleaning, added healing, as well as support elimination.

Every one of these implies that there are surprise expenses to resin printing beyond the cost of the printer and also a bottle of resin. If those things look acceptable, then by all means benefit from the economical choices readily available for desktop resin printing as well as begin experimenting. Since when prints appear well, they can look amazing. Simply bear in mind that a resin printer isn't most likely to replace your filament-based printer because they are various devices that are good at different things. Therefore, prototyping with FDM and outsourcing a resin print is always an option.