Can't afford a Lambo? Why not 3d print Lambo your own?
It could be a dream for many people to have their own Lamborghini Aventador. but for a scientist father and son who build one in their own backyard. Nothing is impossible to happen.
"My son said he loved the Aventador and wondered if it was possible to build one. He did not need to twist my arm too much!" Backus said.
A self-confessed gearhead, Backus, who is a Ph.D. physicist (so that's Dr. Backus) who designs lasers for research and an adjunct professor at Colorado State University, always wanted to build a supercar himself.
"Originally we were going to build it out of steel on a buck, but seeing how far 3D printing had come, we decided to 3D print the car instead," he continues.
So how did he design this incredible gigantic guy?
First of all, before starting this design, selecting a high-precision 3d printer will be the first step. They brought 3/pcs 3d printers from Amazon. Including Creality3d CR-10S 3d printer. Backus designs the panels on Solidworks, a 3D design program. And prints each panel in small pieces.
Then he glues each panel together. with some panels fixed unto a steel frame underneath.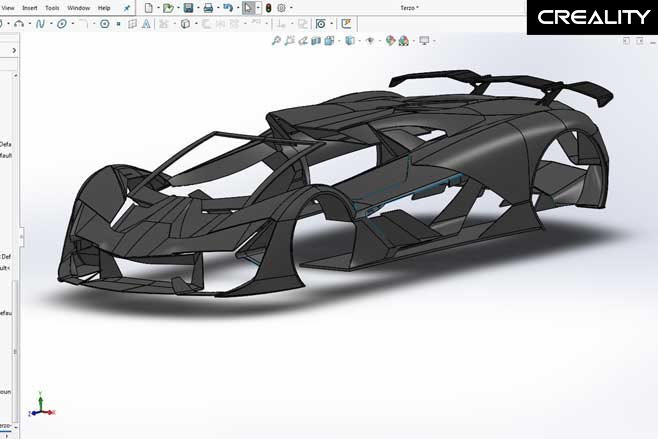 To give the larger body panels that "single-piece" look and better structural strength, Backus painstakingly wraps the parts in proper carbon-fiber Kevlar (not your average automotive vinyl wraps), and seal them in place with a vacuum encapsulation method he learned from YouTube using store-bought tools.
"I had no prior experience in 3D printing or encapsulating the parts. The encapsulation was based on skinning techniques I saw on YouTube," says Backus.
"Since this is going to be a one-off project, encapsulating the parts made sense, and it also adds some sound-deadening properties to it. I am kind of winging it."


From there the panels are attached to a tubular steel frame chassis that he designed and built himself.
While it is no Aventador-like carbon-chassis structure, Backus designed the chassis with a front and rear "cantilever coil-over suspension system", which is similar in design principle to the Aventador's inboard suspension setup.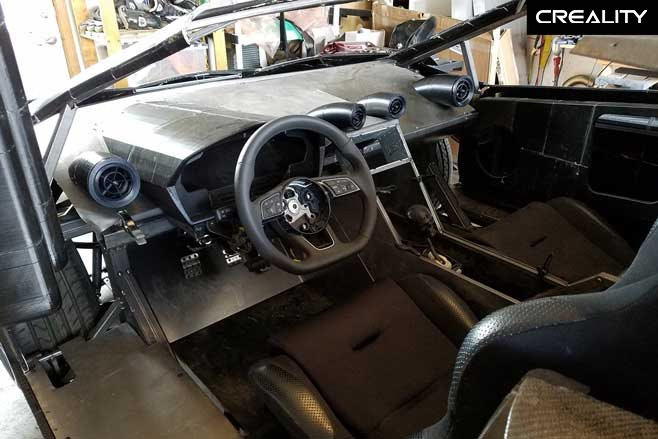 At the supercar's heart lies an LS1 V8 engine lifted from a 2003 Chevrolet Corvette with two turbochargers strapped onto its side for good measure, and mated to an inverted Porsche 996 911 transaxle.
While Backus 3D-printed the Aventador's taillights and complex parts such as the rear diffuser and front bar, built much of the chassis, and assembled the running gear, there are some parts that he couldn't fabricate himself.
"I sourced used or cheap new Lamborghini parts such as the door windows, rear mirror, side mirror glass, marker lights, latches and strikers for the doors, and wiper arms from the internet," explained Backus. "Some parts from Audis were also sourced, such as the steering wheel and some switches."
While this sounds all too complicated just to scratch-build a supercar replica, Backus says the whole replica is being built on a budget of "under USD$20,000" (under AUD$29,000), which is just a fraction of a real Aventador's Stateside price of USD$420,000 and not to mention the invaluable experience of building your own car.
"We have a long way to go in finishing the car. We have had our ups and downs, but the journey has been a ton of fun!" said Backus.